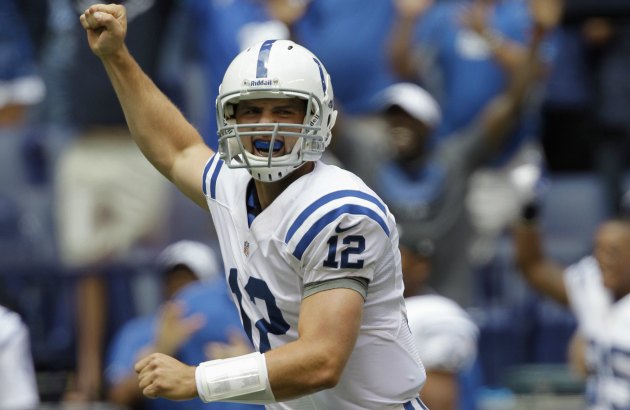 Luck was pretty darn strong in his first start of the preseason. (US Presswire)
Andrew Luck's first NFL action in the preseason couldn't have gone any better. His inside screen pass to Colts running back Donald Brown on his first pass of the game went for a 63-yard touchdown and led Indianapolis owner Jim Irsay to exclaim this:


Historic beginning!!!!!!!!!!!!! The legend has begun!!!!!!!!!!!!!!!!!!

— Jim Irsay (@JimIrsay) August 12, 2012

The rest of his afternoon in the Colts preseason opener vs. the Rams went nearly as well.
Luck showed definitively why he was the No. 1 draft pick, using his athleticism to escape would-be sackers and some veteran-like ingenuity to keep his team on the field. More impressively he showcased his arm strength and his accuracy as he went 10 for 16 for 188 yards, two touchdowns and a 142.7 quarterback rating while leading the Colts to a 21-3 halftime lead.
Luck's debut, by and large, couldn't have gone much better. It was nearly perfect.
Which is exactly what Luck was through his first two series when his quarterback rating stood at the maximum 158.3. It began on his first play from scrimmage when he threw the ball two yards to Brown, who then did the rest by scampering for the 63-yard score. In the aftermath, Luck ran down the field with his arm held high in the high.
Was the touchdown fortuitous? Um, yes. Did it ruin this storyline? Absolutely not.
Mainly because Luck was a standout throughout the rest of the half. He didn't get much help from his offensive line early in the game, and it was a rare occurrence when he was not under pressure. But he showed his ability to scramble away from danger, and when he had time to throw, he was even better.
He hit Ty Hilton on a third-and-3 on an out route to keep alive his second drive and then finished it off with a 23-yard rifle to Austin Collie for the touchdown. On his third drive, Luck smoked a pass across the middle to Quan Cosby, who caught the ball at the 1-yard line. The Colts scored one play later.
Luck also showed some veteran savvy by rushing to the line of scrimmage and snapping the ball after his sideline completion to Hilton in order to avoid a possible Rams challenge, and even after his receivers (LaVon Brazill, Coby Fleener and Collie) dropped three-straight passes on that third drive, he stayed focused and eventually led the Colts to an 18-point lead.
All of this happened against the Rams secondary that was one of the worst in 2011. But that wasn't the point of Sunday's exercise.
No, this was a showcase for Luck to see how he would fare against the first-defense of a real NFL team. And yes, he was everything for which the Colts could have hoped.
For more NFL news, rumors and analysis, follow @EyeOnNFL on Twitter, and subscribe to our Pick-6 Podcast and NFL newsletter. You can follow Josh Katzowitz on Twitter here: @joshkatzowitz.