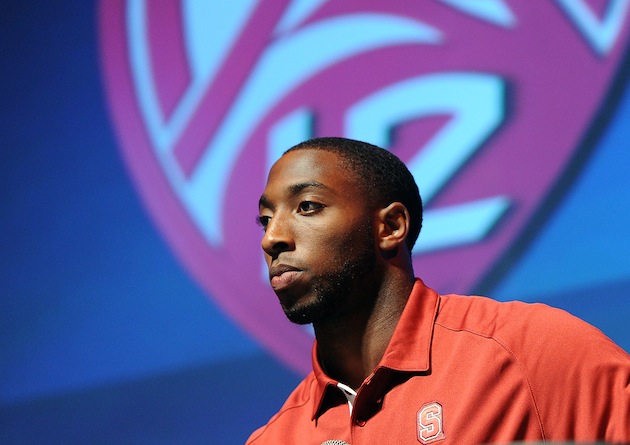 With Andrew Luck gone, it's finally Stepfan Taylor's time to shine out on the Farm. (US Presswire)
STANFORD, Calif. -- There will be plenty of No. 12 jerseys and skepticism in the stands when Stanford takes the field for their opener on Friday night. The more inattentive of the Cardinal fan base -- of which there are many -- may be wondering who exactly is that tall kid under center wearing No. 6 in place of Andrew Luck.
In the huddle however, Cardinal players are confident that Stanford can remain among college football's elite despite losing Luck, the No. 1 pick in last April's NFL Draft who helped transform the program from bottom-feeder to BCS bowl winner. New starting quarterback Josh Nunes will be one of several new faces trotted out, and despite what many think is a season of uncertainty on the Farm in 2012, the team itself will isn't worried about its tough road to maintain sustainability in what should be a tough Pac-12. 
No Luck? No problem for Stanford, who simply has one of the best -- and most overlooked -- running backs in the country in Stepfan Taylor.
"With Stepfan, we know what he is. This is year four, we know how he is, we know what he is," coach David Shaw said. "He's 1,300 yards away from being the all-time leading rusher in school history. He is a known commodity so there's a lot of comfort for us knowing he's a complete back and that there's nothing he can't do."
As much press, rightfully so in most cases, that Oregon's dynamic combo of Kenjon Barner and De'Anthony Thomas or USC's high-powered offense received during the run-up to week 1 this year, the soft-spoken Taylor is virtually an unknown commodity outside of the Bay Area. Although most associated Stanford's run of back-to-back BCS bowl game appearances with the gifted right arm of Luck, the Cardinal actually ran the ball 257 times more than they threw it the past two seasons.
"That's the game plan," said running backs coach Mike Sanford. "The neat thing is we've become Running Back U, Tight End U… Offensive line U after this recruiting class and the guys we've sent to start in the NFL. At the running back position though, the thing we like to do is not be a flashy group or a group that talks about how great we are, we just want our body of work to take over and let everybody judge based off that. It's a blue-collar group and I think people are starting to take notice of that and the fact that there's a great tradition of running backs here."
That run-first mentality first instilled by former coach Jim Harbaugh has filtered down throughout the offense over the years and is why, Shaw says, Luck's favorite game last season wasn't his 330-yard, three touchdown performance in a triple overtime win at USC but when he threw a season-low 21 passes for 169 yards in a 65-21 throttling of Washington. The reason? The team set a school-record with 446 yards rushing, led by Taylor's 138 yards on just 10 carries.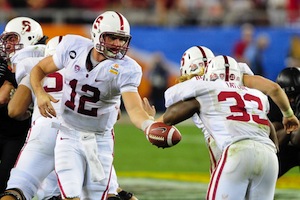 With Luck taking snaps in Indianapolis, the Stanford offense will revolve around Taylor. (US Presswire)
Expect plenty more of that as the offense breaks in a first-time starter under center in Nunes, who didn't take a single snap last year and has just two passes at the collegiate level to his name. Taylor, a second team All-Pac-12 selection following a 1,330 yard campaign, shouldered most of the load on the ground (242 carries), but still was part of a rotation that featured Anthony Wilkerson, Jeremy Stewart and Tyler Gaffney. With two of the backs gone and the quarterback situation carrying a question mark, it goes without saying that the time has come for the senior to become the focal point of the offense.
"We run the ball and we run it a lot," said Shaw. "There are a lot of carries there for a lot of guys. Stepfan is going to get the lion share but we'll spell him with Anthony. We love having that one-two punch."
"If anything (Taylor) will have more carries this year," Sanford added. "He was a workhorse for us but I think there were only two games where he was over 25 carries. Part of that is by design because we want him to be fresh going into the 4th quarter."
Wilkerson is considered to be one of the three fastest guys on the Cardinal offense and will be as much of a home run threat as his older counterpart. Junior Ricky Seale is an instinctive back who should be in the mix for a few carries, as well as physical sophomore Remound Wright. Taylor, however, doesn't mind the additional workload this season is likely to bring and notes he carried the ball upwards of 40 times in certain high school games. This year might be a little different with teams loading the box to stop the run even more than in the past but that's a challenge he's more than ready face.
"I feel like I'm always ready -- a competitor wants the ball all the time," said Taylor. "I'm a huge competitor and will do whatever it takes to help my team win."
A Science, Technology and Society major who spends a lot of his downtime making short videos about various topics, Taylor has quietly pulled within sight of most of Stanford's career rushing records. The understudy to Toby Gerhart during his Heisman runner-up season and second-fiddle to Luck for the past two years, the spotlight has never seemed to shine the 5-foot-11, 215-pounder. That's fine for the always smiling tailback, who gives more credit for his success to his offensive line than his physical tools and tends to only speak about himself within the context of the team.
"I'm not really focused on that record, I'm focused on winning," he said. "We don't want go outside the scheme and try to pad our stats and hurt the team. We know that and just have to go out and execute the scheme our coaches have for us. We want to give our best every play."
More on College Football
Columns

Related links
More college football coverage
Video
Winning, by Stanford standards, is all he's done and there's a chance he could go out with one of the winningest classes in school history. It's a familiar story for the Mansfield, Texas product who helped propel his previously unsuccessful high school team further in the state playoffs than ever before as a senior while setting a number of individual records. As one of the leaders on the current Cardinal team, he's taken those lessons and helped the team think not about taking a step back, but taking one forward.
"Of course it's going to feel different (without Luck and others), but college football is a four- or five-year plan because guys graduate or go to the league," said Taylor. "We all knew that and we lost a lot of great players in the last class but we've got to build on that. It's a new season and it's different but everybody's got to find their role and develop a new identity for the team.
"We don't want to let down the past players who built this foundation and let it go to waste. We want to build on what they left."
Building something to last at a non-traditional football power won't be easy but football history isn't what crosses Taylor's mind when thinking about Stanford. Perhaps that's because when he does look backward, he remembers how little of the program's history there was to know.
When he was recruited in high school, Taylor had such little exposure to the university that he thought the Stanford coaches were recruiting him to an Ivy League school on the East Coast. He ended up taking just one official visit, out to Palo Alto, where he managed to soak up the laid back but studious atmosphere and bond with his fellow recruits. Not scared off by the presence of other running backs on the roster, Taylor was encouraged by prospect of competition and by the highly regarded recruiting class Harbaugh was bringing so he signed up to be a part of a major turnaround on the West Coast.
That he has been an integral part of the reclamation project isn't as widely known outside the program due in large part to his workman-like attitude that has set an example for both older and younger players to follow.
"In terms of his leadership, he's been outstanding from day one," Sanford said. "He played as a true freshman because he takes this game like a professional. He takes great notes, he practices at a high level -- I've never seen the kid have a bad day and that's impressive. He's not an overly vocal leader but definitely our football team follows his lead."
"We almost don't watch him in practice because we know what he's got," said Shaw. "He doesn't make any mistakes in practice. It allows us to concentrate on what needs our attention because his presence and his production will alleviate some pressure.
"Stepfan's steadying presence helps everybody. It helps the line, it helps the receivers, it helps the quarterback."
There's plenty of hope that Nunes does enough to keep the team operating at a high level as a result, especially leading into a showdown with No. 1 USC the third week of the season at home. There will no doubt be plenty of scouts in attendance at Stanford Stadium for that game, most making an evaluation on the player the Cardinal's offense will revolve around.
"We believe he's a definite National Football League player and will be a really good back in the NFL," Sanford said. "We do want him to be fresh and not ride the horse too hard that it can't run the races anymore. We're going to depend on him a lot though, he's so steady and such a good back, such a good pass protector. He makes so many guys miss and we need him in there with the transition at quarterback and to kind of become 'that guy' of the offense."
As the Cardinal embark on life after Luck, there's no overwhelming sense of fear among those around the program this season. Out of the shadows and into the spotlight, the Stepfan Taylor show is the reason why.