Twelve up-and-coming new starters for the new season. See also: The All-Breakthrough Defense.
- - -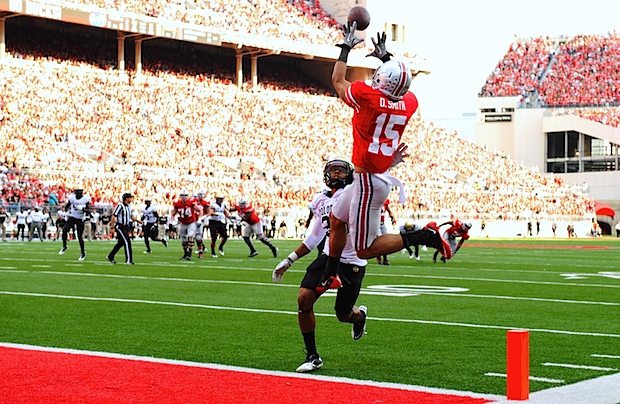 A few preliminary rules for the road: All players are second or third-year guys – no incoming freshmen or new transfers – set to start for the first time this year, or otherwise to contribute heavily after a redshirt year or a season (or two) as a backup. No one on the team was feted with awards or freshman All-America notices, and none has more than two career starts; the vast majority have never started. Because they weren't instant-impact stars, you won't find any of these guys near the top of the preseason position lists, but you should expect to be well-acquainted with all of them by this time next year.
If your team's budding star was left off, it's probably because we know too much about him already. And what's the fun in that?
Quarterback • Jameill Showers, Texas A&M
Showers wasn't showered with recruiting hype, doesn't boast eye-opening size or speed and hasn't given coaches much to look at on tape: Just five pass attempts last year as a redshirt freshman, all of them in garbage time. But he was clearly the class of the Aggies' quarterback competition in the spring, outdueling a trio of freshman contenders for first crack at the position vacated by outgoing starter Ryan Tannehill, and he'll give SEC defenses their first look at the "Air Raid" scheme imported by new coach Kevin Sumlin, architect of a string of prolific passing attacks at Houston. If nothing else, no Sumlin quarterback will ever lack for opportunities.
Running back • Ka'Deem Carey, Arizona
Carey was fine in 2011, a hometown product who returned kicks and led the team in all-purpose yards, and turned in the Wildcats' best individual effort of the season with 92 yards rushing in a late upset over Arizona State. But that was as a true freshman backup, running behind the nation's greenest offensive line, in a pass-first system that was forced to keep the ball in the air to offset the Pac-12's most generous defense. In Rich Rodriguez's offense, Carey will be typecast in the Steve Slaton role, behind a line that returns fully intact. Adjust last year's numbers accordingly.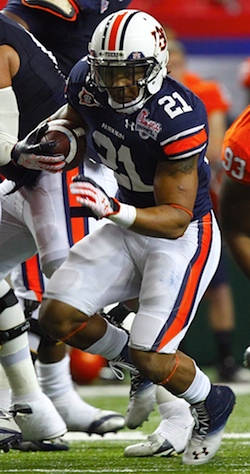 Running back • Tre Mason, Auburn
Mason made an immediate splash in his first college game, courtesy of a 97-yard kickoff return against Utah State, and promptly retreated into obscurity for the rest of the regular season. With starter Michael Dyer on ice for the Chick-Fil-A Bowl, though, Mason picked up a significant share of the slack with 64 yards rushing on nine carries, including a straight-ahead, 22-yard touchdown run that more or less put the game away. With Dyer's absence now permanent, and undersized senior Onterio McCalebb still better suited to misdirection and perimeter runs, the job of between-the-tackles workhorse is Mason's for the taking.
Wide receiver • Devin Smith, Ohio State
Under almost any other circumstances, a player who finished as his team's leading receiver would be ineligible for this list. But Ohio State's offense in 2011 defied precedent: Plagued by key suspensions and eventually stuck with a true freshman quarterback aiming at a bunch of freshman and sophomore targets, the Buckeyes spent most of the season just trying to get the passing game off the runway. Smith wound up at the top of the stat sheet mainly by default; he was one of only two receivers who saw the field in all 13 games, despite coming off the bench in every one of them. His dramatic turn in the midseason win over Wisconsin notwithstanding, Smith's output (14 receptions for 294 yards) marked the lowest team-leading totals in the nation this side of Army.
Chalk it up to growing pains. By the end of the year, fellow freshman Braxton Miller was only beginning to discover his arm; by the end of spring practice, Smith was first in lineto ensure it will be put to good use.
Wide receiver • Dominique Williams, Washington State
It doesn't take a crystal ball to guess that Cougar receivers are going to fare well under proven spread-passing savant Mike Leach, or that the most obvious beneficiary of Leach's damn-the-torpedoes approach is going to be proven headliner Marquess Wilson. For the spring game, though, the starting nod on the outside went to a WIlson clone, redshirt freshman Dominique Williams, who proceeded to muscle his way into the spotlight with five catches for 121 yards and a touchdown. Characteristically, Leach responded by challenging the work ethic of star and understudy alike, but come fall, there will be more than enough passes to go around.
Tight end • Colt Lyerla, Oregon
Lyerla didn't have remotely the immediate impact of Oregon's other five-star freshman, De'Antony Thomas, though that may ultimately say more about the opportunities for blazing skill guys in the Duck offense than any glaring talent gap: Five of Lyerla's seven receptions behind senior starter David Paulson went for touchdowns, and three covered at least 25 yards. With the position all to himself, Lyerla is on deck for a breakthrough.
Tackle • Rob Havenstein, Wisconsin
Breaking news, Big Ten: The Badgers are not getting any smaller. Even by Wisconsin standards, central casting rarely produces a specimen of such Gibsonian proportions as the 6-foot-8, 345-pound Havenstein, Himalayan heir to the right tackle position vacated by 6-foot-7, 330-pound Josh Oglesby. The latter was a first-team All-Big Ten pick who helped clear the path for the Big Ten's No. 1 rushing offense, a title the Badgers have now claimed four years in a row. His galactic successor is only one of many reasons to make it five.
Tackle • Cyrus Kouandjio, Alabama
Recruitniks will recall Kouandjio as the indecisive blue-chip who produced the most dramatic moment of Signing Day 2011 by publicly committing to Auburn, then flipping to Alabama for good a few days later. Since then, though, he's right on schedule, overcoming a season-ending knee injury last October to assume the starting spot at left tackle in spring practice; as a result, his presence there freed up All-American Barrett Jones to fill the only vacancy from last year's front five, at center. If Kouandjio is even halfway to fulfilling the hype, 'Bama has the most formidable line in the country.
Tackle • Aundrey Walker, USC
It's tempting to write that USC returns everyone on offense, the same offense that put the torch to everyone on the back half of its schedule, but that's not quite true: All-American Matt Kalil's decision to pass on his senior season left a glaring hole at left tackle that, for now, stands as the only thing standing between the Trojans and a unanimous nod as the No. 1 team in the preseason polls. Walker, once pegged at well over 350 pounds as a recruit, met the challenge of replacing Kalil by showing up for spring practice some 50 pounds below his peak weight, each one of them shed in the name of keeping Matt Barkley clean.
Guard • Brent Benedict, Virginia Tech
Technically, Benedict's college career began two years ago, as a touted, four-star signee at Georgia, but it really begins now: After sitting out his freshman year with a lingering knee injury he suffered in high school, and sitting out last year under NCAA transfer rules, this fall will be the first time Benedict has actually had the opportunity to step on the field. When he finally does, it will be as one of four new starters on the Hokies' front five, a clean slate if ever there was one.
Guard • La'El Collins, LSU
Collins is an outlier on this list, in that he's the only person on it whose place in the lineup is in realistic doubt: With four returning starters from last year's front five, he still has to beat out sixth-year senior Josh Dworaczyk – returning from a knee injury with a team-high 26 career starts to his credit – for the lone vacancy at left guard. But all else being equal, the outcome is in Collins' hands. Like Kouandjio at Alabama, his five-star potential is the missing piece that can make a very good line an irresistible one, and the Tigers will give Collins every opportunity to fulfill it while grooming him to eventually take over at his natural position, left tackle.
Center • Russell Bodine, North Carolina
On paper, the Tar Heels quietly boast the best line in the ACC: All four returning starters – tackles Brennan Williams and James Hurst and guards Jonathan Cooper and Travis Bond – are future pros. The only question is in the middle, where Bodine takes over with nine games and two starts to his credit as a redshirt freshman. If all goes as expected, he may have a career in front of him, as well.