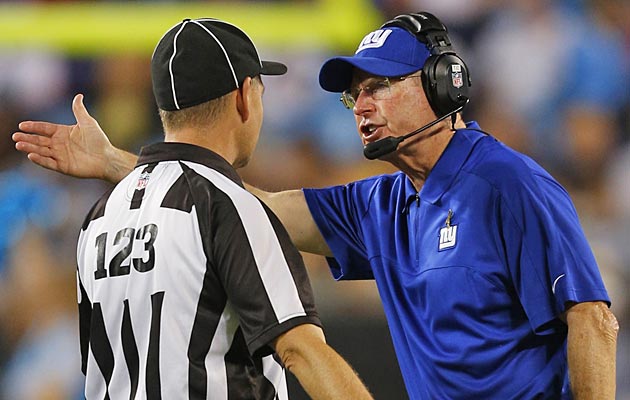 The NFL has told its teams to give the replacement officials a break and cut down on arguments. (Getty Images)
Every week in the NFL takes on a life of its own and Week 3 is no exception. Here are some issues I will be keeping a close eye on as the games unfold.
1. Ejections: Last week things got close to dangerous on the field in a few games. The league sent a memo warning coaches and club executives about player and coach behavior. One coach told me he didn't think anyone would be ejected this weekend but did think penalties and fines will be in play. I think an ejection or two is definitely in the cards for players this week. The replacement officials have to get control of the games.
2. Trigger Cutler: The Rams visit the Bears, and the best way to defeat the Bears is to unnerve QB Jay Cutler. Look for Jeff Fisher to bring the heat early and go for a few sacks to get under Cutler's skin. I think Jay will hold his emotions in check but it's worth a try for the Rams.
3. Spiller in the shotgun: Everyone is talking about how dangerous C.J. Spiller is running the ball. His 10.1 yards per carry is impressive, but even more impressive is Spiller running from the shotgun. The Browns have looked at his 16 carries from shotgun and what they see is 227 yards at 14.1 yards a carry and three rushing TDs. Cleveland needs to put an extra man in the box against Buffalo in the shotgun to play the run over the pass. When Spiller runs the ball and Ryan Fitzpatrick is under center the production drops to 13 carries for 65 yards (5 yards per carry, no TDs).
NFL: Week 3
Columns

---

Related links
Pro Football 360
NFL coverage on the go
4. The zero-interception week: All the talk about the 49ers focuses on their defense, their running game and the emergence of Michael Crabtree. But I am just as impressed by Alex Smith, who has now thrown 203 passes dating back to last season without an interception. Can he keep it going this week?
5. Which Bush has the biggest day: Michael Bush gets the start for the Bears and should see 20 carries. He is an excellent inside zone runner. When Bush gets 20-plus carries, the results are pretty good over his career. In those 10 games, he has averaged 104 yards rushing and has nine rushing TDs -- and his team has an 8-2 record. Dolphins back Reggie Bush is on fire -- and it really started when he went to Miami. In his 17 games as a Dolphin he has gained 1,694 yards and has nine TDs. Last season, in his only game against the Jets, he averaged 7 yards per carry. Keep an eye on both guys named Bush.
6. Tebow time? Mark Sanchez had a good first game and the Tebow wildcat produced 2.7 yards per carry Week 1. Last week Sanchez struggled, completing only 6 of 22 passes for 58 yards after the opening drive. This week, keep an eye out for the Tebow offense, because we may see it for close to 15 snaps. The Miami defense is off to a very good start and the Jets will do whatever it takes to win a division game.
7. Welker rides again: It looked like Wes Welker was being phased out of the offense, fueling speculation was he was near the end of his Patriots career. But when tight end Aaron Hernandez went down because of a high ankle sprain, Welker's targets jumped up to 11 last week. As a Patriots WR, Welker has played in 87 games and has averaged 10 targets and seven catches per game. Watch Wes, because his numbers are going right back up to his career averages, and maybe even a little higher this week, with Tom Brady feeling the heat from the pass rush.
8. Guaranteed panic button: There are some 0-2 teams in rebuilding situations with rookie quarterbacks and their limited wins probably will come later in the season. The Chiefs visit the Saints and neither team is in a rebuild. Both teams were considered postseason possibilities during the summer. The loser not only falls to 0-3 but reduces its chances of the postseason dramatically. Only 2.7 percent of 0-3 teams make the playoffs and the last to do it was the 1998 Buffalo Bills.
9. Who needs a Giant performance? The Giants had injuries, a short week and were on the road. Under those circumstances, everyone bailed on them. What no one saw coming was the response of backups Ramses Barden, Andre Brown, Stevie Brown, Jayron Hosley and James Brewer. This game provides a great lesson for backups across the league; when opportunity knocks, be ready. Teams like Kansas City, Pittsburgh, Dallas and Detroit have significant injuries heading into their games this weekend and as the Giants reminded every team -- there are no excuses.
10. Which trend wins out? The Patriots visit the Ravens on Sunday night in a big AFC game. It's a rematch of the 2011 AFC Championship Game but both clubs also lost in Week 2. Brady and company have only lost consecutive games twice since Nov. 19, 2006. I took a look at Brady's games after a loss and it typically means a three-TD day for the great QB. This time he faces a Ravens team that is only 1-5 against the Patriots in the past six, but this defense has intercepted Brady seven times in the past three. Brady averages 40 passes when he faces Baltimore and the Ravens' defense averages a sack every 17 pass plays vs. Brady. As for the Ravens, they are at home, where Joe Flacco is 19-1 in his past 20. Last season, Flacco led his team to five home wins against playoff teams. The Ravens have developed a no-huddle offense modeled after the Patriots. The only problem New England has with its no-huddle is the absence of Hernandez. I am very interested to see how Bill Belichick defends the Ravens' no-huddle. It might provide a few clues as to how teams should defend New England going forward.