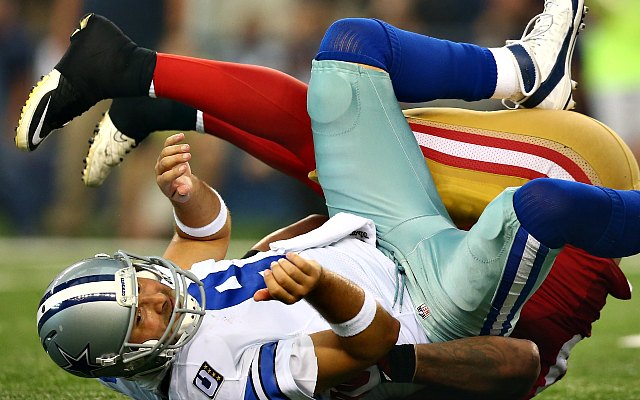 The problem for Dallas was supposed to be the defense. And on Sunday, it was. But the offense, which is supposed to buoy this Cowboys team despite that lackluster defense, was equally awful and sunk Jerry Jones' team early in a disastrous 28-17 loss that looked awfully like a 49ers home game despite the Arlington locale.
The Cowboys defense is a stripped-for-parts version of the 2013 roster with less talent than last season's historically bad unit.
Colin Kaepernick, Frank Gore, Carlos Hyde and Vernon Davis had their respective ways with Rod Marinelli's defense all afternoon long. This will be an ongoing theme throughout the season.
That's why the offense's struggles are an even bigger issue, because if Tony Romo and company don't correct things quickly, 2014 will be a frustrating ride to a top-five draft pick.
"I was disappointed just in the way I that I performed in the first half. It's not the way you want to play," Romo said. "Any time you go against a good football team like that you can't give them extra opportunities."
Romo's three picks felt like many, many more ...
RT if you've intercepted me today.

— Not Tony Romo (@not_romo) September 7, 2014
And the interceptions weren't just bad blunders or instances where Romo was forced into doing too much because the offense was overextended. They were heinous, unnecessary and ill-timed throws.
Romo missed Jason Witten in the end zone to flip a score into a turnover. He threw into double coverage multiple times. There was a back-breaking interception. Almost literally.
Dez Bryant would miss a significant chunk of snaps following his spine-bender of an attempted catch and he finished the game with four catches (on six targets) for 55 yards and no scores. Bryant and Witten had three catches combined when the game was out of hand.
The offensive line was bad, giving up three sacks to a team missing Aldon Smith, its best pass rusher. Tyron Smith hardly looked like his Pro Bowl self and even DeMarco Murray, who ran for 118 yards on 22 carries with a touchdown, coughed up an early fumble that was returned for a touchdown by Chris Culliver.
A complete lack of balance on the roster equates to no room for error from the offense. The defense will give up points. That's a given each week. But if the offense isn't scoring at a pace consistent with the Cowboys' opponents, things will get ugly.
If the offense is actively giving the team on the other side even more opps to shred the weak Dallas D? Forget about it.
As Cowboys coach Jason Garrett said of the turnovers, "You cannot do that any week in the NFL."
If the Cowboys continue to do it, they won't win many this year.
Punters are people ... who get kicked in the head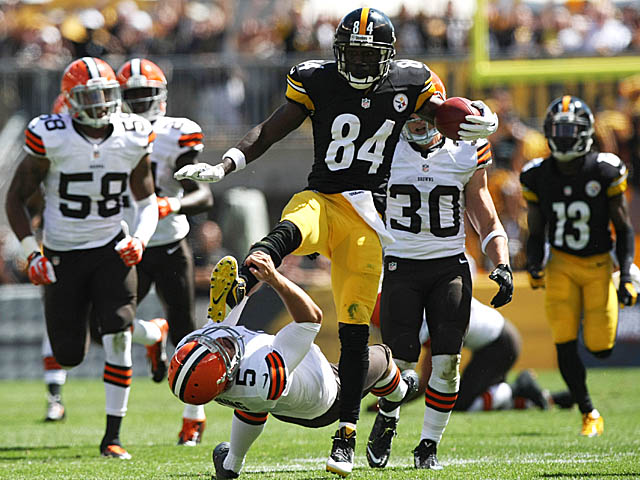 What Steelers wide receiver/punt returner Antonio Brown did to Browns punter Spencer Lanning was a solid metaphor for how Pittsburgh beat up on the Browns in the first half of Sunday's game.
Brown, returning a punt, reared up and went full Street Fighter II with a Hurricane Kick to Lanning's dome:
Brown's kick is the sideshow but there was plenty of meat from this game. The Steelers looked dynamite in the early going. Le'Veon Bell -- who looks incredibly slim and in shape -- was rolling, Ben Roethlisberger dialed up multiple times and Brown, despite his ninja ways, was on fire, abusing Joe Haden up and down the field.
Cleveland managed just a field goal in the first half. But the Browns came back, thanks in part to a no-huddle offense commanded nicely by Brian Hoyer as well as some dynamic running by rookie Terrance West (16 carries, 100 yards) after Ben Tate suffered an injury.
Roethlisberger would eventually flip the tables back in favor of Pittsburgh and though Mike Pettine gave his team a "fail" grade for the game ("This is a pass/fail league") this was a moral victory for Cleveland.
Fighting back on the road to tie a division rival? That's strong stuff. And Hoyer's second half should certainly keep Johnny Manziel from seeing the field regularly for a few more weeks.
Elsewhere in the AFC North
Joe Flacco is the rich veteran with the ring and Andy Dalton is the up-and-coming, newly minted $100 million* man without the playoff win. And they looked completely different Sunday, but for the opposite reason. (*Sort of)
Flacco was ... terrible. Nothing stood out more than the final play of the first half, which Flacco called the "stupidest play I've ever made in football."
How can you argue with him? With 8 seconds left and the Ravens in field goal range, Flacco managed to burn off all the clock, fail to pick up any yardage -- and fall flat on his face.
The result was unfortunate. So too were the pair of sacks Flacco took at the end of the game on both third and fourth down to give the ball back to the Bengals when Baltimore was 21 yards from tying the game.
It's not all his fault: the game plan (which called for Flacco to throw 62 times) was terrible. The Ravens' running game was awful. Bernard Pierce was benched for fumbling. Flacco hit Steve Smith for a bomb and the defense, missing Lardarius Webb, immediately coughed up a 77-yard shot from Dalton to A.J. Green.
This was a case of the scoreboard not reflecting the real ugliness of the Ravens' performance. 
Value Above Replacement
When the Panthers announced Cam Newton would be inactive for their 4:25 p.m. ET game in Tampa Bay, the Vegas line quickly shot in the Buccaneers' favor. Understandable with Derek Anderson starting.
The former Pro Bowl selection -- 2007! -- who hadn't started a game since 2010 quickly proved everyone wrong. Efficiently operating the Panthers offense, Anderson led Carolina to a mammoth 20-14 Week 1 victory without its franchise quarterback.
Maybe efficient is an unfair word. Anderson didn't rev up Carolina's offense -- because Carolina's offense doesn't really rev -- but he did average 6.8 yards per attempt, threw the ball 34 times and tossed a gem of a touchdown pass to Kelvin Benjamin. The play perfectly illustrated why the Panthers drafted the 6-foot-5 Florida State product.
Benjamin's debut as a rookie, playing with a backup as the top option on his offense, was impressive all around, too. He caught six passes for 92 yards and a touchdown, which would have qualified as the second-most productive game by a Panthers wide receiver during the entire 2013 season.
He certainly looks like a capable replacement for Steve Smith.
In just over 3 quarters of his first game, Kelvin Benjamin already has more yards than Steve Smith had in any game last year.

— Chris Wesseling (@ChrisWesseling) September 7, 2014
Anderson won't likely replace Newton long as Ron Rivera expects Cam back next week. But Anderson was largely responsible for tacking a win to the Panthers' column by playing the way he did Sunday, and when it comes to tallying up the full season, it can't be overstated how huge that was.
McCown!
Josh McCown was actually all right in the second half for the Bucs, nearly leading them back against Carolina. But this interception was one of the all-time bone-headed picks you'll ever see.
Same Old Bears?
For those of us driving the Bullish Bears Bandwagon, Sunday was a no-good day. Chicago lost at home to the Bills, ruining my survivor season in the first week and generally looking terrible.
Brandon Marshall and Alshon Jeffery both suffered injuries (RED FLAGS!) and Jay Cutler made some terrible mistakes. But the biggest culprit was Chicago's run defense. Just like 2013, Chicago couldn't stop anyone on the ground, giving up 193 rushing yards on 33 carries.
C.J. Spiller totaled 53 yards on 15 carries, Anthony Dixon (!) had 60 yards on five carries and Fred Jackson ran for 61 yards on 7 carries, including an overtime run of 38 yards that set up the game-winning field goal and left Chris Conte as a stain on Soldier Field.
Dixon's long run of 46 yards was a result of the defense getting completely fooled, in particular Lance Briggs. He's No. 55 in case he disappears from the middle of your screen.
Bottom line is the Bears invested heavily on the defensive line this offseason, both in free agency and the draft. If they still can't stop the run, they're not upending the Packers in the North.
Temporarily on Top
Hey look! The Vikings are alone in first place in the NFC North. Granted the Lions haven't played yet, but there's reason for optimism in Minnesota.
They curb-stomped the Rams to the tune of 34-6 in Week 1, thanks in large part to Cordarrelle Patterson's breakout 102-yard rushing performance.
Patterson is the 1st WR in team history to rush for 100 yards in a game. Currently at 102 on 3 carries. #Vikings

— Vikings PR (@VikingsPR) September 7, 2014
Patterson's big day was fueled by a Madden-esque run in the third quarter putting an exclamation point on the beatdown.
Quickly...
You want to know why the Patriots lost on Sunday? This is why:
Tom Brady in 4th quarter: 6-20, 31 yards. Seriously.

— Jeremy Lundblad (@JLundbladESPN) September 7, 2014
The Raiders played better than anyone could've expected but it was completely overshadowed by Maurice Jones-Drew PUNTING THE BALL TO DEREK CARR. Mesmerizing.
Rex Ryan is so damn exotic. Ew.
Coples lined up as CB, jammed WR, with Walls over top. Gotta love Rex. #nyj

— Rich Cimini (@RichCimini) September 7, 2014
Potent Quotables
Harbaugh confirmed that Pierce was benched cause of fumbling. "We're not enamored with fumbling"

— Jeff Zrebiec (@jeffzrebiecsun) September 7, 2014
Jerry: "We do know that if we don't score more than that, we're going to have a tough time against any team."

— Tim MacMahon (@espn_macmahon) September 8, 2014
Martellus Bennett on Cutler's second pick: "I don't know what happened on that s--- . The fat guy got a pick."

— Michael C. Wright (@mikecwright) September 7, 2014
Worth 1,000 Words