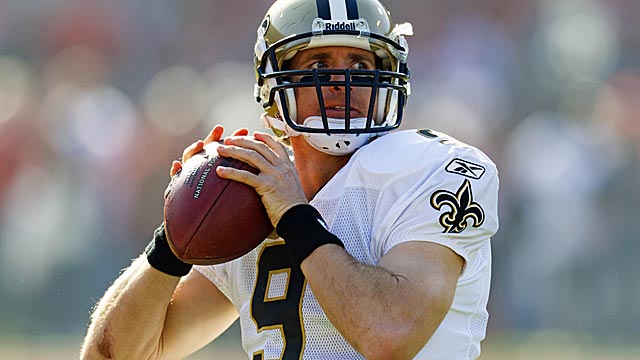 New Orleans never had a choice but to pay Brees. (Getty Images)
On Friday, the Saints made Drew Brees the richest player in NFL history on a per-year basis, giving the quarterback a five-year, $100 million deal. It's a crazy contract, and the guaranteed money ($60 million) is even crazier, but it's kind of irrelevant because the Saints had no choice but to pay Brees.
Their other option was to, in effect, become worse than the 2011 Colts.
More on Saints, Brees
Related links
That's right, the Suck-for-Luck squad that limped into a 2-14 record behind the arms of Curtis Painter, Dan Orlovsky and Kerry Collins, the replacements for Peyton Manning after his season was lost due to a neck injury. The difference is that those Colts weren't dealing with suspended coaches and a bounty scandal that had the whole league and world watching what they were up to.
From a football perspective, having Brees hold out and eventually return to the team obviously wouldn't be as damaging, but if Brees didn't show up it certainly would be. The team's obviously filled with talent at the skill positions -- Jimmy Graham, Marques Colston, Lance Moore and Darren Sproles are a dangerous core group -- and they have some playmakers on defense as well.
The Saints' success is predicated on their offense, a ball-control passing game with the capability to strike deep at any moment. The running game goes as far as Brees goes, because defenders are so busy respecting what Brees can do in the pocket.
Of course, it's not just his physical ability that sets him apart. Far from it -- Brees is the brains of the operation on offense. And it's never been more true than right now, with Sean Payton suspended for the entire season and unavailable to help gameplan before games and strategize during them.
Payton's suspension leads us the last point, which is the emotional issues surrounding New Orleans. Leadership and off-field scandals matter in contract negotiations. They're not a sticking point necessarily, but they matter. In Brees' case, he brought the city its first Super Bowl. And also in Brees' case, he's been the singular, shining aspect to this offseason by signing his contract.
It's funny. Brees might make less guaranteed money than the Nets' new acquisition Brook Lopez. That's the nature of contracts in the NFL, versus the NBA and MLB. But he still set the record for millions per year by an NFL player. And ultimately, he could've asked for as much as he wanted. Because the Saints had no choice but to pay him.
For more NFL news, rumors and analysis, follow @EyeOnNFL on Twitter, subscribe to our RSS Feed and subscribe to our Pick-6 Podcast and NFL newsletter. You can follow Will Brinson on Twitter here: @willbrinson