The NFL added some difficulty to the extra point this year by moving it back 13 yards, but it can actually get even tougher than that, just ask Justin Tucker. 
Thanks to teammate Konrad Reuland, the Ravens kicker had to try a 48-yard extra point during the fourth quarter of Baltimore's 40-17 loss to Philadelphia on Saturday night.
The Ravens were originally going to go for two after Daniel Brown caught a 28-yard touchdown pass, but coach John Harbaugh changed his mind after Reuland was called for a chop block on the two-point attempt.
The penalty meant Tucker's very makeable 33-yard kick became a pretty difficult 48-yard kick.
 After the game, Tucker said it wasn't the first time that he'd tried an extra point from 48-yards away. According to Tucker, the Ravens were actually ready for that situation.  
"It would be a surprise if it wasn't something we practiced before," Tucker said. "We've thought about as much as we can every possible scenario that will pop during a game."
Tucker also had to try a 43-yard extra point earlier in the fourth quarter after a teammate was called for holding.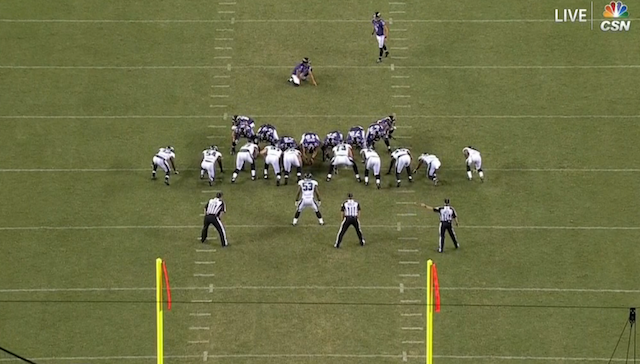 The fourth-year kicker, who's never missed an extra point in his career, drilled both of the long attempts. 
Although Tucker was perfect against the Eagles, not every NFL kicker made it through Week 2 unscathed. Overall, NFL kickers were 42 of 44 through Week 2, with the Bengals and Buccaneers still to play on Monday. 
Through 32 preseason games, kickers have combined to hit 97 out of 101 extra points (96.0 percent). If that percentage sticks throughout the 2015 season, it would represent over a 3 percent drop from the past two years. 
During the 2014 season, NFL kickers hit 99.3 percent of their extra point attempts. In 2013, they connected on 99.5 percent.