When Carl Nicks was ruled out for the season with a foot injury, it meant the Tampa Bay Buccaneers' offensive line had to do some shuffling. Nicks is one of the best guards in football, if not the best.

So the Bucs moved center Jeremy Zuttah to guard, a position he has played in the past. They inserted Ted Larsen at center.

The move paid off in a big way. Zuttah and Larsen helped open up huge holes for Doug Martin, who ran for 251 yards and scored four touchdowns. Larsen was able to handle people on his nose, which allowed Zuttah to get to the second level, creating huge cavities in the Oakland defense.

Here are some pictures to show just how good they played.

The first set of pictures shows Martin's 45-yard touchdown run in the third quarter. The key block is by Zuttah (No. 76). He blocked down on Raiders defensive tackle Desmond Bryant, which allowed right guard Jamon Meredith to pull around and get a block on linebacker Miles Burris. Middle linebacker Rolando McClain ran to make the play but was trapped by fullback Erik Lorig in the hole. That allowed Martin to squeeze through the hole off Zuttah's behind for a nice run. He then made Matt Giordano miss a tackle and off to the end zone he went.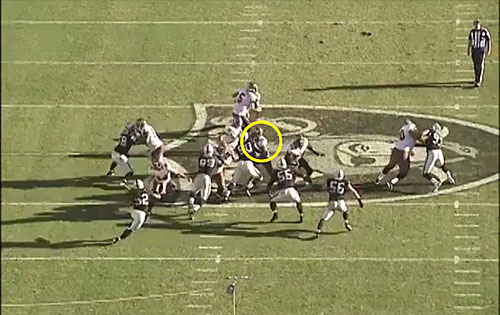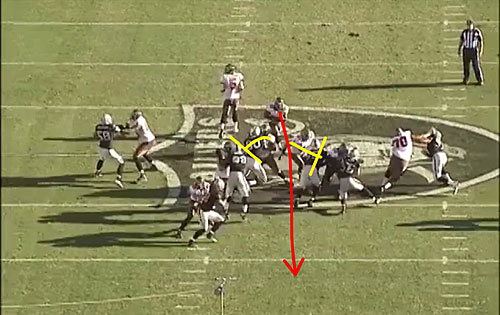 The second set below is Martin's 70-yard touchdown run. You can see Larsen (No. 62) get a good push in the middle. Zuttah was going to double at first, but when he saw that Larsen was handling Richard Seymour he moved to the next level, which is what he is coached to do. When he got to the next level, he mauled Burris to create a huge hole for Martin to score on the long run.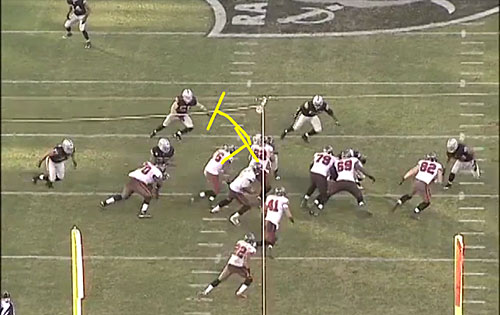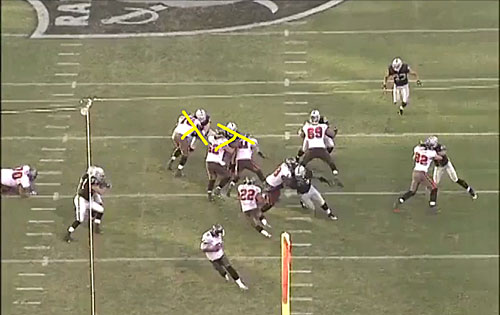 It's not often that you see a team loses its two starting guards for the season, both with Pro Bowls on their resume, and have big rushing games like the Bucs had last week at Oakland. That's a tribute to the Bucs coaching staff for working to overcome those losses.

Yet another impressive rookie QB
When I watched the Dolphins-Colts game to study Andrew Luck, it was hard not to come away impressed with Dolphins quarterback Ryan Tannehill as well. One throw really impressed me -- the 31-yard touchdown pass to tight end Charles Clay.

The Dolphins had a second-and-10 at the Indianapolis 31. The Dolphins were in a four-wide set, with Clay in the slot on the right side inside of receiver Brian Hartline. Both were matched in man coverage.

As you can see from the pictures below, Hartline ran a slant, while Clay ran a corner route matched in man coverage with linebacker Pat Angerer, which is a major mismatch. Tannehill took the snap, looked to his left, then to the middle and then came back to Clay for the touchdown throw. It was a throw that needed touch and Tannehill put it on the football. It wasn't only Luck who shined last week.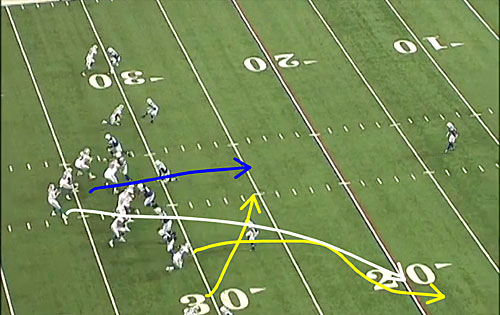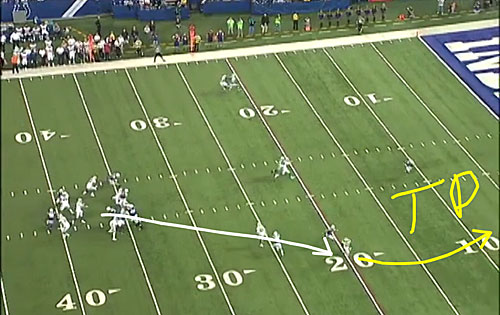 Hasselbeck's costly mistake

Sometimes even veteran quarterbacks make simple mistakes that kill their team. That was the case last week when Bears linebacker Brian Urlacher intercepted Titans quarterback Matt Hasselbeck and returned it for a touchdown. It was a horrible decision by a veteran who should know better.

Take a look at the pictures below. Hasselbeck was trying to throw to Kendall Wright. But Kelvin Hayden had him covered. Hasselbeck stared him down, and Urlacher read his eyes.

As you can see by the pictures, Hasselbeck should have gone over Urlacher's head to tight end Jared Cook for a big play.  But instead, he locked on, made up his mind, and Urlacher made him pay for it. That's why the Titans need Jake Locker back. Even if he makes those mistakes, it's part of the growing process.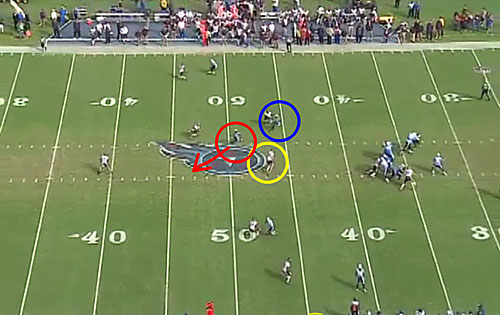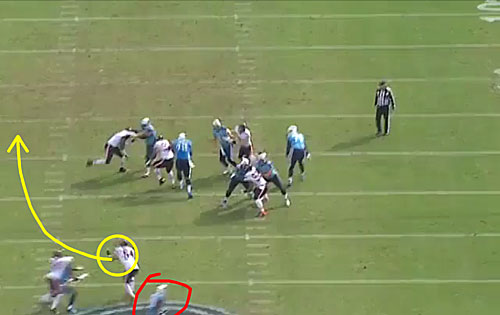 For more film-room analysis, check out my weekly feature, After Further Review. This week I broke down what makes Andrew Luck such a good quarterback.