For the past few weeks, it seems like the NFL MVP has turned into a two-horse race between Tom Brady and Cam Newton, which begs the question: Could any other serious contenders pop up over the final five weeks of the season? 
Andy Dalton and Carson Palmer have been in the MVP conversation almost all season here at the Projection, but the truth is, it will be almost impossible for either one of them to win. Brady's putting up better numbers with worse players, so it's unlikely that either Dalton or Palmer would win the award over Brady. 
If someone's going to make a strong case for the MVP over the final five weeks of the season, it's going to have to be someone who's not a quarterback and that's where Adrian Peterson comes in. 
What J.J. Watt did last year, you know that thing where he was 10 times better than anyone else at his position, well, that's what Peterson's doing this year.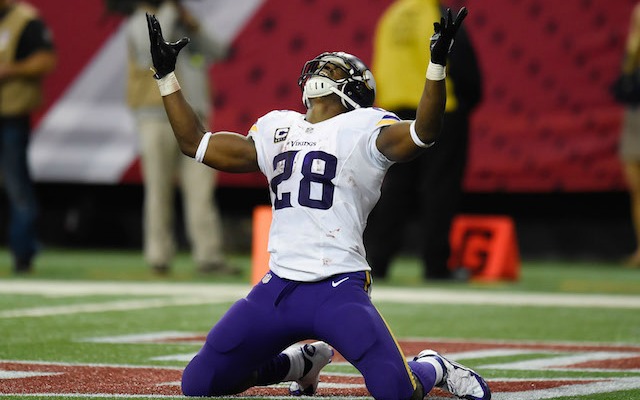 What Peterson's doing is almost impossible: Not only does he lead the NFL rushing, but he's doing that even though every team's defensive game plan is designed to stop him.
Peterson's had no help from the the Vikings passing game this year, which has been virtually non-existent. Through 12 weeks this season, Minnesota ranks 31st overall in passing, ahead of only St. Louis.
With Peterson in the backfield, it should open up the Vikings passing game, but that just hasn't happened. 
Despite Minnesota's passing woes though, Peterson has still rushed for a league-leading 1,164 yards. The Vikings running back is one of only two backs in the NFL who's rushed for over 850 yards this year (Doug Martin's at 1,038). 
The crazy thing is that this season is kind of starting to look like Peterson's 2012 season, when he took home the MVP over Peyton Manning.
Peterson wasn't exactly in the MVP conversation after 12 weeks in 2012, but he forced himself into the conversation by averaging 192 yards per game between Weeks 13 and 15. During that span, Peterson went for 210, 154 and 212 in consecutive games and all of the sudden, shot up to the top of the MVP conversation. 
Through 12 weeks in 2012, Peterson had rushed for 1,236 yards. Through 12 weeks this year, Peterson's only 72 yards behind that number.
We'll talk more about Peterson later, but for now, let's get to this week's projection.  
MVP Projection
1. Patriots QB Tom Brady: Tom Brady might've lost his first game of the season in Week 12, but he didn't lose the top spot in this week's MVP Projection, and that's what's important, right?.
Brady's on top again this week because what he did against the Broncos might have been his most impressive performance of the season.
Brady didn't put up his biggest numbers, but he did somehow throw for 280 yards and three touchdowns even though he had no one to throw the ball to because pretty much everyone on New England's roster who's capable of catching a pass was injured.
Of the the Patriots top-6 receivers going into the Broncos game -- Rob Gronkowski, Julian Edelman, Danny Amendola, Dion Lewis, Brandon LaFell, Aaron Dobson -- only two of them, Gronk and LaFell, were healthy enough to play.
Of those two, only one was able to finish the game (LaFell). And yet, somehow, Brady was able to engineer a five-play, 51-yard drive with no timeouts left to setup Stephen Gostkowski's game-tying field goal with no time left.
As amazing as Brady was though, he's slowly losing his grip on the top spot in the projection and if he should struggle at any point in the final five weeks of the regular season, we might see a new No. 1.
HOW ABOUT SAM BRADFORD FOR MVP!
Byron Maxwell asked if Tom Brady is the best: "Id like to think Sam Bradford is the best." #Eagles pic.twitter.com/Qr6H1xjG0m

— John Clark CSN (@JClarkCSN) December 1, 2015
That's why we don't let Byron Maxwell make this list. Brady will probably throw for 700 yards on the Eagles this week just because of that insult alone. 
Next up for Brady: vs. Philadelphia.
Brady's season stats: 294 of 451 for 3,600 yards, 28 TDs, four INTs, 106.7 QB rating; two rushing TDs.
Weeks on the MVP projection for Brady: 12/12.
2. Panthers QB Cam Newton: The Panthers win over the Cowboys on Thanksgiving Day is a good example of why Newton's in the MVP race even though he doesn't put up eye-popping stats. Newton only threw for 183 yards in the 33-14 win, which would make you think the Panthers offense didn't do much, but it did. Carolina had nine possessions in the game and on six of those, Newton put his team in a position to score using either his right arm, his legs (12 carries, 45 yards, 1 touchdown) or both. 
The Panthers didn't go three-and-out once in the game and anytime they came close, Newton would make a big play. On a third-and-5 in the first quarter, Newton threw a 24-yard pass that kept Carolina from going three-and-out. 
On the Panthers next series, Newton did the exact same thing. On a third-and-10, Newton threw a 24-yard pass that kept Carolina from going three-and-out. Newton does a good job of keeping the Panthers offense on the field and tiring out the opposing defense. 
Newton also does a good job of picking his friends. The Panthers quarterback went to the Hornets-Warriors game on Wednesday night in Charlotte and got some chill time in with Steph Curry.  
Cam Newton and Stephen Curry share a hug "backstage" after the game. pic.twitter.com/EhtHupmVJu

— Steve Reed (@SteveReedAP) December 3, 2015
The reigning NBA MVP thinks the the Panthers are going to the Super Bowl and if Curry's NFL predictions are half as accurate as this three-point attempts, then the Panthers are going to the Super Bowl.  
Steph Curry says the Warriors will lose before the 11-0 Carolina Panthers https://t.co/Soh7PXcNij pic.twitter.com/cQ4s4CtSIS

— CBS Sports NBA (@CBSSportsNBA) December 2, 2015
Oh, and it's probably worth mentioning that Newton has more total touchdowns (27) than everyone except for Brady and Carson Palmer.
Next up for Newton: at New Orleans.
Newton's season stats: 190 of 322 for 2,466 yards, 20 TDs, 9 INTs, 89.5 QB rating; 98 carries, 427 yards, 7 TDs.
Weeks on the MVP projection for Newton: 7/12.
3. Cardinals QB Carson Palmer: No one will ever mistake Carson Palmer for Cam Newton, but they might have if they were watching the Cardinals and 49ers on Sunday. During the fourth quarter, Palmer did something he almost never does: He saw a hole in the defense and he ran. 
Yes, this really is Carson Palmer spiking the ball! And falling over..!

Posted by NFL on Sunday, November 29, 2015
The play above is amazing for a lot of reasons, like Palmer almost fainting at the end, but it's mostly amazing because Palmer almost never runs. It's a minor miracle he made it to the end zone. 
The Cardinals quarterback has 21-yards rushing on the season and eight of them came on the touchdown run. You know what, that was so much fun, let's watch it again, except with the Spanish radio team on the call. 
What's better than seeing #AZCardinals QB Carson Palmer RUN for a TD? It's the Spanish radio call by @AZCardenales! https://t.co/hzm5zzvoQG

— Arizona Cardinals (@AZCardinals) December 1, 2015
The most impressive part of the run wasn't actually the run itself either, it was how fast Palmer was running. According to NFL.com's NextGen stats, Palmer hit a top speed 18.8 mph on the run, which was the FIFTH-FASTEST touchdown run by anyone in the NFL in Week 12. 
The man is 35-years-old!
To put Palmer's 18.8 mph in perspective, consider this: Luke Kuechly ran 18.37 mph on his pick-6 against the Cowboys and Broncos running back C.J. Anderson only hit 18.00 mph on his game-winning touchdown run in overtime against the Patriots.  
Palmer's not an MVP candidate because of his speed though, he's an MVP candidate because he's been one of the best quarterbacks all season. 
Through 12 weeks, Palmer leads the NFL in yards per attempt (8.83), is second in touchdown passes (27) and QB rating (105.9) and ranks third overall in passing yards (3,337).
Next up for Palmer: at St. Louis.
Palmer's season stats: 241 of 378 for 3,337 yards, 27 TDs, nine INTs, 105.9 QB rating; 1 rushing TD.
Weeks on the MVP projection for Palmer: 8/12
4. Bengals QB Andy Dalton: Not only is Andy Dalton still an MVP candidate 12 weeks into the season, but he's also a candidate to make a lot of money if he can win enough games to earn a first-round bye in the playoffs. 
A bye into the Divisional Playoffs is worth $5M to Andy Dalton. Others with big performance bonuses via @CBSSports. https://t.co/cfxl7tdrna

— Joel Corry (@corryjoel) December 2, 2015
Since winning a playoff game is something that almost never happens in Cincinnati, the Bengals decided to tie some of Dalton's bonus money to postseason victories.
If the Bengals make it to the divisional round of the playoffs this year, $1 million will be added to Dalton's base salary over the final five years of his contract (2016-2020), which means Dalton will get a cool $5 million if Cincinnati either wins in the wild-card round of the playoffs or gets a bye into the divisional round. 
Right now, it looks like the Red Rifle is gunning for option two. Dalton and the Bengals are currently the No. 2 seed in the AFC, thanks in large part to Dalton's performance against the Rams. Dalton threw three touchdown passes against the NFL's eighth ranked pass defense.
To be fair to the Rams though, Sunday's game was a 1 p.m. game, which means Daytime Dalton was playing, which means the Rams really had no chance.  
Next up for Dalton: at Cleveland.
Dalton's season stats: 238 of 362 for 2,971 yards, 23 TDs, 6 INTs, 105.3 QB rating; 131 rushing yards, 2 rushing TDs.
Weeks on the MVP projection for Dalton: 10/12.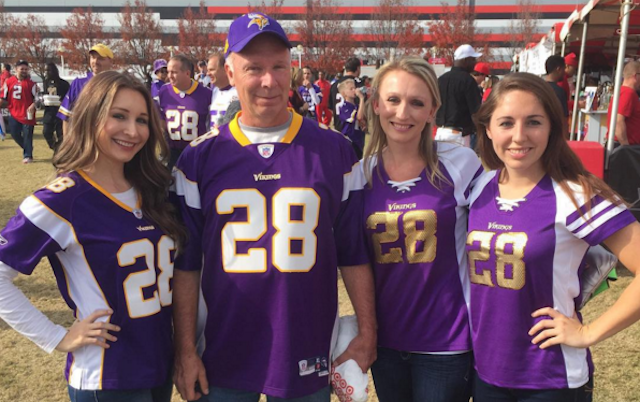 5. Vikings RB Adrian Peterson: When Peterson won the MVP in 2012, he wasn't exactly considered a candidate to win the award heading into Week 13, which is where we are now. In 2012, Peterson had 1,236 rushing yards after week 12 and then exploded for 861 yards over the Vikings final five games, which averages out to a ridiculous 172.2 yards per game.
To put that average in perspective, only five players in the entire NFL this year have rushed for at least 170 yards in a game. Peterson averaged that over the Vikings' final five games in 2012.
If Peterson comes anywhere close to emulating that average this year, he'll definitely be in the MVP race heading into Week 17.
The argument against Peterson breaking out though is that the Vikings upcoming schedule is next to impossible. 
In a span of five days, starting on Sunday, Peterson will face the NFL's fourth (Arizona) and fifth (Seattle) ranked rushing defenses. However, that doesn't necessarily mean they're going to slow him down. The Falcons had the NFL's top-ranked run defense before Sunday and Peterson gashed them for 158 yards and two touchdowns. 
The craziest thing about Peterson is that he's proof that big, strong backs can wear down a defense. The Vikings running back has averaged 3.5 yards per carry on first quarter runs this year, but that number jumps up to 7.9 YARDS PER CARRY on fourth quarter runs. 
Adrian Peterson has been impressive this season for the @Vikings, who sit atop the NFC North at 8-3. pic.twitter.com/nlrvsxs3Lj

— ESPN Stats & Info (@ESPNStatsInfo) December 2, 2015
It the Vikings give him the ball 40 times in the fourth quarter, he might rush for 3,000 yards this year.
Next up for Peterson: vs. Seattle.
Peterson's season stats: 237 carries for 1,164 yards, 8 TDs; 23 catches, 183 yards.
Weeks on the MVP projection for Peterson: 3/12.