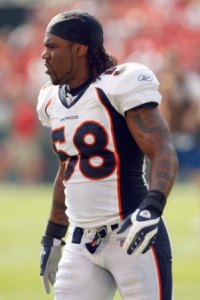 Police say Nate Webster told them the girl was 15. Now, his laywers say he remembered wrong. (US Presswire)
The attorneys for former Bengals and
Broncos
linebacker Nate Webster are saying the affair he admitted to having with a 15-year-old actually occured after she turned 16.
That's the case they're making in Webster's trial on sexual battery, gross sexual imposition and five counts of unlawful sexual conduct with a minor. Webster, via the
Cincinnati Enquirer
, admits he had sex multiple times with a 16-year-old girl -- what his lawyers say was an immoral act -- but according to the law in Ohio, the age of consent is 16.
Webster, then 31 years old, apparently said on a recording that the girl -- who he used as a babysitter -- was 15 when they had sex, but his lawyers said he was remembering incorrectly. That, they hope, is the difference between Webster's potential freedom and spending the next 30 years in prison.
 "Something immoral takes place between Nate and" the girl, Gregory Samms, one of Webster's attorneys, told jurors. "When it happens, she's 16 ... and it is consensual."
Apparently, the girl's father complained to Webster that he wasn't paying her for providing babysitting services. In response, Webster allegedly started the affair and told the girl he would kill her family if she told anybody.
More from the Enquirer: "Eventually, they often had sex in Webster's car, with heavily tinted windows, in Webster's Symmes Township home or in a nearby park. The girl finally told her parents. They contacted police who put a wire on her and had her talk to Webster. On those recorded conversations, [assistant prosecutor Seth] Tieger said Webster admitted having sex with the girl when she was 15."
But now Webster has amended his story.
This is a "story of a troubled young girl, so troubled that she doesn't want to live in her own home," Samms said.
Ravens
linebacker
Ray Lewis
, also a linebacker alum from the University of Miami, is expected to testify later this week.
For more NFL news, rumors and analysis, follow @EyeOnNFL on Twitter, and subscribe to our Pick-6 Podcast and NFL newsletter. You can follow Josh Katzowitz on Twitter here: @joshkatzowitz.