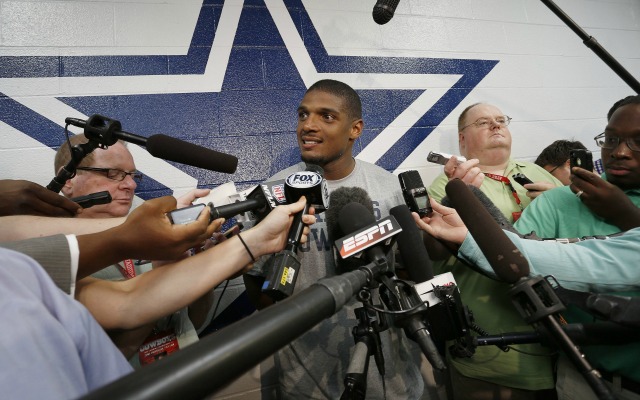 About a month ago, the NFL announced that it would hold the first-ever veteran combine in Arizona on March 22, to correspond with the location and timing of the NFL owners meetings, which will be held in Arizona from March 22-24 this year.
NFL director of football development Matt Birk sent out a memo in January in which he called the current free agent process inefficient and said, "There's a void there. There was nothing for that guy out there who has one or two or three years in the league and is not with a team and is at the mercy of when the phone rings or when his agent gets him a workout. This will be a forum for these guys to showcase their talents and a service for our clubs instead of [what had been] an inefficient process."
One of the players who hopes to be extended one of about 100 invitations is apparently former St. Louis Rams and Dallas Cowboys defensive end Michael Sam, who fits the description of the kind of player referenced in the league memo.
Sam became the NFL's first openly gay player when he was drafted by St. Louis in the seventh round of the 2014 NFL Draft after being named SEC Defensive Player of the Year in 2013. However, Sam did not make the 53-man roster and was cut by the Rams in August. He had a productive preseason, collecting 11 tackles, three sacks and eight pressures while mostly lining up as a left defensive end, but he had the misfortune of being drafted by a team already stocked with edge rushers. Sam was also largely outplayed by fellow rookie defensive end Ethan Westbrooks, who managed to make the 53-man roster out of camp.
Sam subsequently caught on with the Dallas Cowboys' practice squad, but never made it onto the game-day active roster. Sam was released by the Cowboys when fellow rookie defensive end DeMarcus Lawrence returned from injury.
If Sam is not extended an invite to the veteran combine, he has a one-year offer to play for the CFL's Montreal Alouettes, according to USA Today's Tom Pelissero. Going to the CFL does not necessarily mean the end of an NFL career. Players such as Cameron Wake, Brandon Browner, Doug Flutie, Joe Theismann and Warren Moon played in the CFL before later becoming NFL stalwarts.