More ideal rosters: Pete Prisco's 53 | Jason LaCanfora's 53
The challenge: Assemble a 53-man roster under the constraints of the salary cap with actual cap numbers … and make it realistic.
That last part is easier said than done. Other articles have been written where someone assembles a hypothetical NFL roster under the same constraints, and the result is usually super squads that rival the All-Pro teams.
So we set some ground rules:
1. The salary cap for the roster is $148.85 million. The actual salary cap is $143.28 for this year but the average adjusted salary cap for each NFL team is approximately our higher figure according to NFLPA data. This number reflects carryover room from one year to the next allowed under the Collective Bargaining Agreement.
2. The backups at each position are limited to players that aren't established starters. Players competing for starting jobs or where there's a "by committee approach" at a position, usually running back, are acceptable. An allowance was made to have three starting cornerbacks after colleague Jason LaCanfora, who has assembled his own team, brought up an excellent point about some teams playing a nickel package as a base defense with an increasing number of teams utilizing it over 50 percent time defensively.
This concept limits the ability to create an embarrassment of riches at most positions. For example, Russell Wilson and Cam Newton aren't allowed to be the team's quarterbacks. There might be a quarterback controversy affecting team chemistry with both players on the roster. The quarterback relegated to backup duty would likely request a trade.
3. There must be one player from each round of the NFL Draft over the last three years (2013-2015) on the roster. There's also a limit of one player per round. This makes it impossible to have Odell Beckham and Aaron Donald, the 2014 Offensive and Defensive Rookie of the Year winners, on the same team. There's a loophole I didn't consider relating to 2012 draft picks. There can be unlimited 2012 first round picks, an inexpensive form of talent. Future versions of this concept will likely close the loophole.
4. All 2015 draft picks can be considered as backups.
5. Choosing a player that was given a franchise or transition designation in 2015 is optional. However, only one player receiving a 2015 designation can be selected.
Roster building philosophy
Long-range planning wasn't taken into account so 2016 salary cap obligations, expiring contracts or drafting players that could develop into starters in the future wasn't a concern. Different choices would have been if these aspects had been a consideration. An emphasis was placed on four areas.
Quarterback
Blindside protection
Generating a pass rush
Pass coverage
The ground rules made creating a roster more difficult than I imagined. My initial version of the team was done without paying close attention to cap numbers. I had to make major adjustments because I was approximately $15 million over the cap. Since only so many large cap numbers can be accommodated, removing Robert Quinn ($16,744,110) was one of those adjustments. I kept special teams in mind for the back end of my roster. All of the cap room wasn't used. A small cushion was left for a full practice squad of 10 players and to sign players when the inevitable injuries happen during the season.
Here's the team I assembled with some of my thoughts behind the selections.
Total salary cap room used (53 players): $144,345,668
Remaining salary cap room: $4,504,332
Offense (25 players): $57,880,954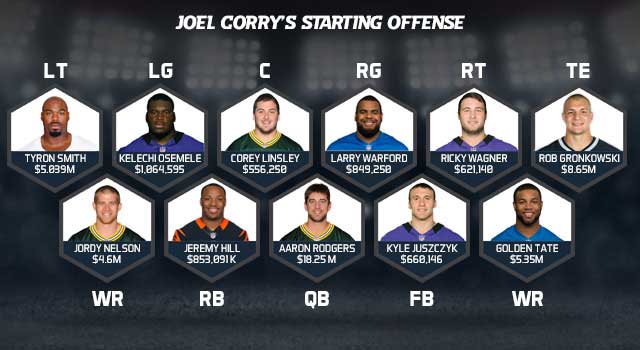 Quarterbacks (2): $18,791,279
Rodgers is my choice, although he has the NFL's fourth biggest cap number for quarterbacks. Selecting the reigning MVP over Andrew Luck creates more of a roster-building challenge. His cap number is over 2.5 times greater than Luck's. There's only one backup because of Rodgers' large cap number. A third quarterback will be on the practice squad.
Running backs (5): $5,127,848
Something had to give because of my quarterback choice. Investing heavily in ball carriers wasn't going to be the philosophy anyway. Inexpensive and low mileage became the primary considerations for a feature running back. Hill only has 222 career regular season rushing attempts. His 5.1 yards per carry was third among NFL running backs in 2014. The 2014 second-round pick was second in the NFL in rushing during the second half of the season with 775 yards.
Bush and Robinson will get carries in relief of Hill. Robinson would be the workhorse in New Orleans with Bill Parcells coaching the Saints. He thinks Robinson is similar to Curtis Martin. Bush will also see extensive action in obvious passing situations. Thomas is a change-of-pace option and the primary kick and punt returner. Juszczyk is the lone fullback.
Wide receivers (6): $12,848,678
It's nearly impossible to find a better value on a veteran wide receiver deal than Nelson. He's also Rodgers' favorite target. I had Antonio Brown in mind as the other starter. I went in another direction because of his $9,787,500 cap number. I chose Golden Tate over T.Y. Hilton. He would have been duplicative, because John Brown has been compared favorably to him. Brown can take the top off of defenses with his blazing speed. Tate will utilize his ability to pick up yards after the catch from the slot in multiple wide receiver sets.
Hurns was a tremendous find for the Jaguars. The 2014 undrafted free agent was Jacksonville's most productive wide receiver last season despite the team drafting Allen Robinson and Marqise Lee in the second round. Wilson fills the 2013 seventh-round pick requirement. Weems makes his mark on special teams. He led the Falcons with 13 special teams tackles in 2014.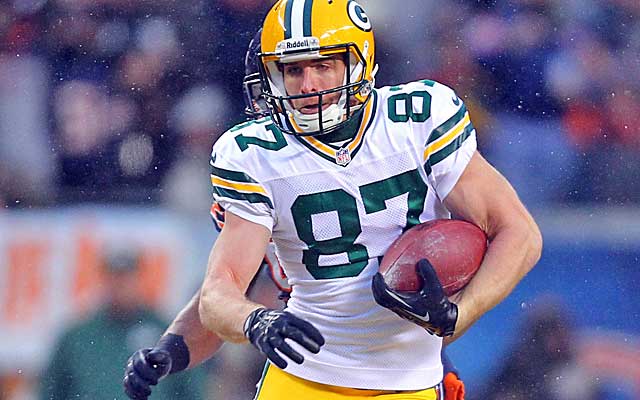 Tight Ends (3): $10,782,054
Gronkowski may have been New England's most valuable offensive player in 2014. There was a big difference in Tom Brady's effectiveness with and without a healthy Gronkowski. He doesn't come cheap. Gronkowski has the NFL's second-largest cap number at the position.
Ertz is my move tight end. The main reason why the 2013 second-round pick hasn't unseated Brent Celek as Philadelphia's starting tight end is Chip Kelly's comfort level with Celek's blocking. Ertz will be used to create mismatches since he can line up tight, in the slot or split out wide. Fells functions as a blocking tight end. Since he has a minimum salary benefit contract, his $870,000 base salary is counting on the cap at the $585,000 league minimum salary for players with two years of service. Juszczyk can be an option in pinch. He was a FCS All-American tight end at Harvard.
Offensive line (9): $10,331,095
Smith's team-friendly contract extension that runs through the 2023 season makes him the ideal candidate to anchor the offensive line.
Seasoned veterans such as Marshall Yanda and Josh Sitton were too cost prohibitive to be realistic options. An economical approach was taken with the remaining starters. Choosing quality players on rookie contracts, preferably after the second round, was the goal. Warford's sophomore campaign didn't measure up to his rookie year in 2013 when he was one of the league's best guards. Joel Bitonio wasn't a fit at left guard because Hill was a second pick in 2014.
La'el Collins is a no-brainer because he's a first-round talent that went undrafted because of circumstances beyond his control. He and Clemmings have the ability to play guard and tackle. Shipley is an experienced vet that provides depth at center. He's started 19 games in his three NFL seasons. Wichmann is strictly an interior lineman that satisfies my need for a 2015 sixth-round pick.
Defense (25): $82,019,234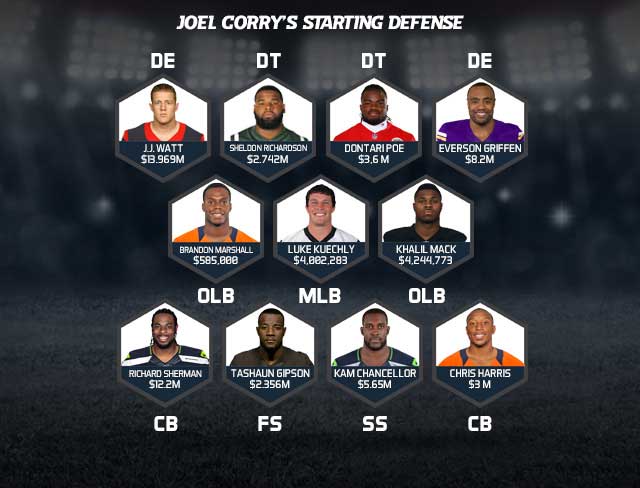 Defensive ends (5): $25,804,015
Versatility is the top priority among the front seven. Players with the potential to fit in 3-4 and 4-3 schemes are a necessity. Assembling a deep and talented defensive line so the group will be fresh in the fourth quarter is paramount.
Watt is a must-have. He's arguably a modern-day Reggie White. I would have found a way to make him a part of the team at the $21.969 million cap number he had before he restructured his contract. He'll operate as a strong-side defensive end in a 4-3 defense. He was considered as an ideal fit at that position prior to the 2011 draft.
I chose Griffen after considering two cheaper options, Junior Galette ($5.45 million) and Jerry Hughes ($6.175 million). Minnesota's experimenting with Griffen at outside linebacker early in his career could come in handy as he moves to the position in a 3-4.
Davis was extremely productive rushing the passer from various places in limited action (26.98 percent playtime) during the 2014 season. He's an exclusive rights player making minimum salary. Ayers also demonstrated an ability to get after the quarterback wherever he lined up. Williams' biggest contribution will be on special teams.
Defensive tackles (4): $10,228,213
Poe is the space eater in the middle of the defense. Richardson returns to his college roots as a penetrating interior lineman in 4-3 base sets and on obvious passing downs. In a 3-4, Poe shifts to nose tackle while Richardson assumes the defensive end position he plays with the Jets. Williams was arguably the best player available in the 2015 draft. He'll have to make most of sporadic playing time as could be case in his rookie season with the Jets. Jarrett provides depth as my 2015 fifth-round pick.
Linebackers (6): $11,549,983
Kuechly is the gold standard for inside linebackers. I was tempted by Bobby Wagner because his cap number is approximately one-third of Kuechly's. Mack made his mark in 2014 as a rookie by being dominant against the run. The fifth overall pick was a better pass rusher than his four sacks suggest. According to Pro Football Focus, Mack had 54 quarterback pressures (combined sacks, quarterback hurries and quarterback hits).
Marshall exceeded expectations when pressed into action last season because of injuries. He excelled in coverage. Marshall is another exclusive rights player with a minimum salary. He is shifting to inside linebacker as the Broncos switch to a 3-4 defense under new defensive coordinator Wade Phillips.
I reluctantly left Randy Gregory off the squad because I have plenty of pass rushers. Kendricks is a more sensible 2015 second-round pick because of his versatility. He's currently a middle linebacker but playing the weakside may be his eventual home.
The Bengals think they may have found another Vontaze Burfict in the third round of this year's draft with Dawson. McClellan is a special teams standout that has played inside and outside linebacker for the Ravens.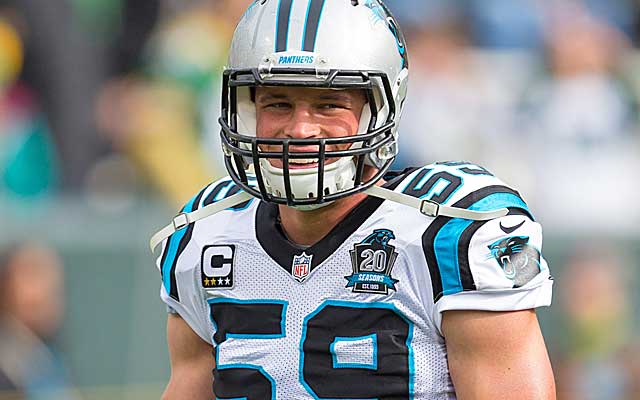 Cornerbacks (6): $24,471,023
Sherman and Darrelle Revis are the league's preeminent cornerbacks. Revis was out of the question because of his $16 million cap number. Sherman leads the NFL with 20 interceptions over the last three seasons even though opposing quarterbacks try to avoid throwing in his direction.
Harris may be the most underrated cornerback in the NFL. He mans the right side in base defense. Harris will move to the slot in multiple wide receiver sets while Gilmore takes his place on the outside.
Bills head coach Rex Ryan and defensive backs coach Donnie Henderson view Gilmore as a shutdown cornerback. Graham filled in nicely for an injured Leodis McKelvin in 2014. He is an excellent special teams player and Buffalo is giving him an opportunity to compete for the starting strong safety job, which makes him more attractive. T.J. Carrie is another big cornerback that can be an option for returns. He was a pleasant surprise as a seventh-round pick in last year's draft. Ekpre-Olomu's torn ACL in his left knee and dislocated knee cap during Oregon's December practices leading up to the College Football Playoff caused him to fall to the seventh round.
Safeties(4): 9.966 Million
Chancellor is arguably the NFL's best in-the-box safety. He's a force against the run and an intimidating presence to receivers in the middle of the field. Gipson, a restricted free agent, is one of the league's best ballhawks patrolling the deep middle. His 11 interceptions since the start of the 2013 season are the most for safeties. Branch was a cap casualty of the Raiders after a broken leg and foot injury limited him to five games over the last two seasons. Prior to the injuries, the former franchise player had been a fixture at strong safety in Oakland since 2009. Special teams ace Kelcie McCray provides additional depth.
Specialists (3): $4,445,480
Bailey is the NFL's most accurate kicker in NFL history with an 89.8 percent conversion rate on field goals (minimum of 100 made). He shouldn't be affected by extra points becoming a 33-yard attempt because of rule changes. Bailey has made 38 of 40 career field goal attempts between 30 and 39 yards. Anger having a cap number under $1 million is the primary reason for his selection. His gross punting average of 47.5 yards was second in the NFL in 2014. Dorenbos is the hallmark of consistency for long snapping.
---
Joel Corry is a former sports agent who helped found Premier Sports & Entertainment, a sports management firm that represents professional athletes and coaches. Before his tenure at Premier, Joel worked for Management Plus Enterprises, which represented Shaquille O'Neal, Hakeem Olajuwon and Ronnie Lott.
You can follow him on Twitter: @corryjoel | You can email him at jccorry@gmail.com