RENTON, Wash. -- If the Seattle Seahawks are a grieving, wounded, haunted team, they have a funny way of showing it.
Under a beaming sun and what, for this part of the country, qualifies as a downright sticky day, the Seahawks underwent a high-speed practice Monday morning, bustling with energy, running to each drill led by dynamo head coach Pete Carroll. They looked more like a team on the rise than one dealing with the worst Super Bowl hangover of all time after their season ended on an interception in the end zone that literally snatched a second straight Lombardi Trophy out of their hands.
On the exterior, they are engulfed in the boundless optimism of their head coach; they are buoyant and driven. And they may in fact be all of that. Probably are. But on the inside, they are still hurting and occasionally will admit as much in a moment of candor, bearing a scar that might only be healed by another NFL title. And even then, for some, there will always be thoughts of the one that got away.
If anyone is equipped to navigate a team through this awkward transition from the abrupt end to the 2014 campaign to the one that awaits, it's Carroll and the embodiment of his mental philosophy on the field: quarterback Russell Wilson. But these are unique circumstances to say the least, and few teams will have had their psyche examined to the extent the 2015 Seattle Seahawks undoubtedly will, especially by the time February rolls around.
"We hide it really, really well," receiver Doug Baldwin said. "I will say that. We've discussed it in the locker room a few times and we're using it as motivation more so than just grieving, I would say. Obviously, it still affects us, because we could have won the Super Bowl. But the fact of the matter is I think this team is utilizing it in the proper manner, a positive way. And it's motivating us, as you can see out there on the football field."
Carroll addressed the team this offseason and spoke of the gruesome loss as part of a grieving process -- everyone does it differently, there is no set table, and each individual will have the space to get over it as he sees fit, in whatever manner that takes. Eventually, they will begin coming out of it on the other side, perhaps not all together but maybe in clumps.
Getting a few wins is the only way to truly start that turnaround, but an offseason trip Wilson primarily organized went quite a ways to help. In years past a good number of players on offense would go down to Los Angeles for a week or so to train. This year, after a good six months of organizing, Wilson led a group of more than 30 players -- from both sides of the ball -- on a trip to Hawaii that turned out to be the perfect mix of work and play, and a necessary haven from the inescapable fallout from their Super Bowl loss. Including players' family members, 81 people in all made the trip.
"I think a lot of the guys were just anxious to get away," Baldwin said. "I don't think a lot of people outside of this organization understand it that even when we go home and it's supposed to be a vacation, everybody is asking you about what happened on the last play, what went into the decision. So you can never really get away from it. So when we were able to get away from it, and just being around our teammates and knowing they're not going to ask us that question, you know, that was more so a relief than anything."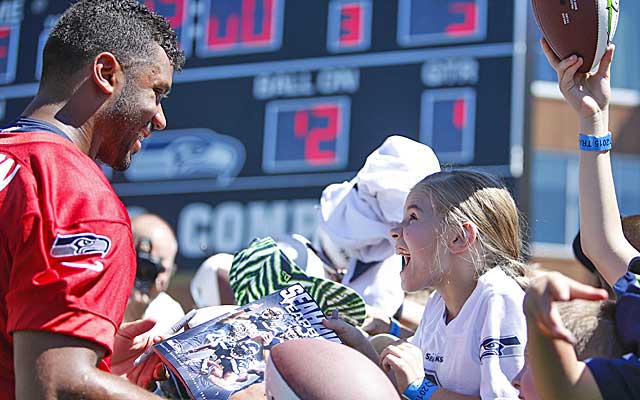 Baldwin added that having players from both sides of the ball went a long way.
"Before it was just the offense and we'd we go down to LA, but this time we invited the defense and it was a family affair. It was fantastic," he said. "I think for us it's just a fun experience, because we work really, really hard when we're out there, but we have a lot of fun as well, and that's pretty much all it is -- we work hard and we have fun and we're able to get away from the distractions and focus on our craft."
Wilson, who was still mired in a contract impasse with the Seahawks on an extension at the time of the trip, worked with Alaska Airlines getting the use of a plane to charter for everyone. He remained every bit a fulcrum of the team at a time when no one would have blamed him for keeping his distance while facing the prospect of playing out his rookie contract for $1.5M. But he wouldn't have missed that trip for the world, and as the man who threw the most dissected pass in the history of the Super Bowl, the escape came at the perfect time for him as well.
"All the guys are looking forward to it already," said Wilson, who eventually signed a lucrative extension just before camp opened. "We're already talking about where we'll go to next year. We get a lot of work in, it's very focused work, and this year we brought in the DBs and linebackers and defensive skill guys, too. It's just great team bonding. It's an unbelievable time."
If Wilson is still grieving the loss to the Patriots, he refuses to let on. He's not one to look back, in general, and especially not now. Always told he was too small, or not good enough, he's a true believer in himself and the powers of mind over matter. That's more evident now than ever in the face of his greatest professional setback.
For quite some time now, he has been "on to 2015" and it's the only way he knows how to face adversity, displaying that spirit as he raced around the field during drills. Grieving for a loss isn't something he'll do, at least never outwardly.
"We love the game too much -- no matter what our successes are and no matter what our failures are, we have to look forward to the next opportunity," Wilson told me. "And that opportunity is right now. You can't miss on it. It's right now. You can't let the success of yesterday determine today. It's not going to determine today's success. We have to focus in the moment, and the more we can get the team to use that language, use that idea, to stick to philosophy of being in the now -- going 1-0 every week and 1-0 everyday -- you give yourself a really good chance to win."
Undoubtedly, Wilson's vision includes a trip down the coast to Santa Clara to play in a third straight Super Bowl, and hoist another Lombardi Trophy. And in the meantime, in what little free time he has, he's piecing together next year's team trip, knowing that Hawaii will be hard to top. 
"I can't tell you too much about it, it's on the low for now," Wilson said, smiling. "A good poker player never tips his cards."
Observations from Seahawks camp:
Everybody loves Jimmy: This team can't contain its excitement about the acquisition of hulking tight end Jimmy Graham. It's a dimension they've long missed and he and Wilson were at it again well after practice ended, working on routes in the red zone, where the former Saint will do some of his best work.
"There's nothing he can't do," Carroll said, and you get the feeling he'll be kept under wraps quite a bit in the preseason to not reveal too much.
Wilson is downright gushing over him.
"He's been phenomenal ever since we got together," Wilson said of Graham, who players said really began to feel like part of the group during the Hawaii trip. "He's really clicked with everybody. He's been great."
Wilson has had limited weapons in the past and the tight end position had been something of a black hole on an otherwise sterling roster. Graham will open up the field for Baldwin and others, and Wilson has a guy to just go get jump balls and a huge target the smaller quarterback will be able to spot under duress.
"It's amazing how already he's just impacted our offense," Baldwin said. "Not even by designing plays for him, just by plugging and playing him. He's such a dynamic player with his size -- and his athleticism at that size. He does so many things for our offense."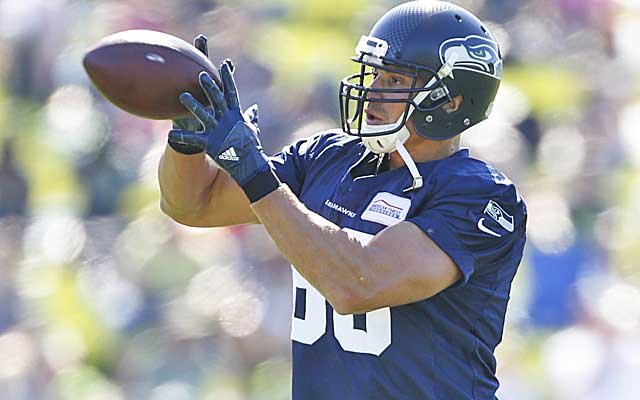 Getting talent on the field: I love the creativity of this front office and coaching staff. Not sure anyone in the NFL, other than Bill Belichick perhaps, experiments more with trying players at different positions, and it just might pay dividends.
They toggle receivers and corners and vice versa and have several defensive linemen converting to offensive line (the biggest -- only? -- position of need on the roster).
Drew Nowak, a former defensive lineman, is the leader to start at center, trying to replace stalwart Max Unger who was dealt for Graham.
"Drew is a little ahead right now," Carroll said of the battle for the center spot, but the preseason games will dictate much of that. Overall, this is an area to keep an eye on, as Wilson's lack of great size would ideally be offset by stud interior linemen.
That's not the case here, and Wilson overcomes much of that with his adaptive play. But it's safe to say the Seahawks would love to see a few youngsters grab their attention on the line.
"The young guys need a lot of work," Carroll said.
Good thing they have Tom Cable coaching the line, one of the best in the business.
The Chancellor waiting game: Count me among those who believe Kam Chancellor will end up here when the real games start -- money always talks -- and the Seahawks find a way to curtail his fines. I don't see them tearing up a contract for the heavy-hitting safety, and make no mistake, Chancellor is the heartbeat of this defense.
For now, it's next man up, and second year safety Dion Bailey has been impressive in a short sample size. He picked off a ball in the end zone playing with the starters Monday and nearly broke up a few more in the red zone. If anyone can coach up defensive backs in the NFL, it's the Seahawks. They find the long, lean, physical, athletic body type they covet whether in the draft or waiver wire or the Arena League or the CFL.
Big expectations for Lockette: This offense has struggled to implement smaller, shifty receivers to this point -- Percy Harvin being the most expensive miss in that regard -- but hopes are high for third-round pick Tyler Lockette. The rookie out of Kansas State is listed at 5-foot-10 and has been flashing on some underneath stuff and has some suddenness to his game. With 2014 second-round pick Paul Richardson ailing again and not practicing, this kid will get plenty of looks in the exhibition games.
Fantasy perspective: Baldwin had another great day Monday, catching a touchdown on a line from Wilson that had the quarterback running 50 yards to celebrate with him. If anyone most directly benefits from Graham's arrival, from a fantasy football perspective, I think it's him.
Camp battles: There have been some good battles between second-year tackle Justin Britt and defensive brute Michael Bennett (who wants a new contract). If nothing else, it'll further toughen the young offensive lineman up. Bennett can strike a pretty imposing figure when he chooses.
Vintage Sherman: Richard Sherman was in midseason form, letting an official have it on the sidelines at one point for a flag the star corner clearly did not agree with. The fans -- about 3,000 in attendance at this beautiful setting on the water -- got a kick out of it. Sherman has an afterlife in the WWE waiting for him should he embrace it. Dude knows how to give the people what they want and deliver some theatre.
The right notes: Few embrace the element of music in their practices more thoroughly that Carroll and the Seahawks, with a DJ fading songs of various genres and cutting and scratching at times as well. Was hoping I'd get a little Iron Maiden at some point this morning -- I know they'd been a staple here in years past – and alas I wasn't let down. Run To The Hills never disappoints.