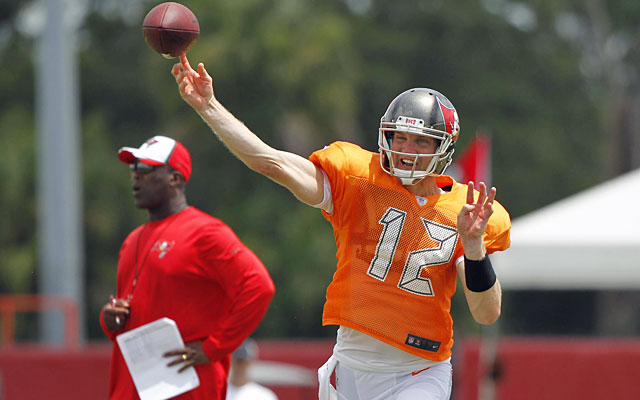 More NFL: Photos |   Videos & GIFs |  Stories | Training Camps |  Manziel watch 
TAMPA ­­ -- The Tampa Bay Buccaneers are quarterback Josh McCown's ninth professional team, if you count his 2010 stint in the UFL. He has 38 starts for three NFL teams in 11 seasons, and has 50 touchdown passes and 45 interceptions with a passer rating of 77.5 in his career.
He's the guy who's going to take the Bucs someplace special? Doesn't he seem like the poster child for The Journeyman Club rather than a potential Super Bowl quarterback?
I have doubts about him being a starter, which I relayed to both Bucs coach Lovie Smith and McCown himself. But after spending two days with the team, listening to players, staff and coaches talk about him -- and talking to McCown himself -- I get what they see.
A little bit, anyway.
"You don't have to be (sold on him)," Smith said when I told him I wasn't. "It doesn't matter what you think."
Smith, ever the gracious one, didn't say that in a mean­spirited way like some other coaches might, but you can tell he is all-­in on McCown.
"You can't judge a guy on what he did early on (in his career)," Smith said. "What I say is we're getting an experienced veteran quarterback who hasn't been beaten up. He's mobile in the pocket. He makes great decisions on who and when to throw the ball. He's as good a leader as you'll be around. Why wouldn't you want that?"
Two years ago, McCown, who came into the league in 2002 as a third­ round pick by Arizona, was resigned to the idea that his football days might be over. He was coaching high­ school football in North Carolina ­­-- quarterbacks of course -- when Jay Cutler went down in Chicago. McCown was signed and started two games late that season.
Then last season happened.
Cutler got hurt again, and McCown came in to start five games, throwing 13 touchdown passes and one pick with a passer rating of 109.0 and a completion percentage of 66.5 percent. It was his third stint with the Bears, and he looked like a different passer.
Who was that guy?
He played so well that some Bears fans actually wanted them to keep McCown and not pay Cutler a long-­term deal. Instead, the Bucs then signed him as a free agent to a two-year, $10-miillion deal.
There was some talk that there would be a quarterback competition between McCown and second­-year player Mike Glennon, who started seven games as a rookie for Tampa Bay, but that isn't the case. It's evident it's McCown's job, and he was Smith's guy from their days together in Chicago.
"Everybody's journey is different," McCown said. "Unless you are at every stop and in every meeting, the details of those meetings and what goes on, you don't know those things. There are different things that happen, and reasons why they happen, and they make us who we are. And all I know is all those stops along the way, I am thankful for because they made me who I am. Last year, things just came together. It seemed to crystallize from a football aspect from both the guys I got to play with and the system."
In the two practices I watched this week, McCown looked like a journeyman in Monday's work and a star on Tuesday. If he plays somewhere in between that, the Bucs could be a good football team.
I am not a big believer in bringing in a 35-­year-­old quarterback as starters to try and jump-start the franchise, especially with a young passer like Glennon around. You usually are what you are, and in McCown's case his one great season in 2013 was more of an aberration than the norm.
But as McCown said, he has few hits on his body and he's fresh. He's also a workout warrior and appears to be in tremendous shape. He also seems like a nice fit for offensive coordinator Jeff Tedford's offense.
When I asked veteran receiver Vincent Jackson about McCown, his face lit up.
"Josh is a great leader, a veteran guy who understands the game, understands personnel, understands matchups," Jackson said. "He's the ultimate professional, the first guy in, the last guy out. He makes everybody in the huddle better. He brings a calmness and lets us focus on the task at hand."
Is this Rich Gannon or Brad Johnson coming on as veteran passers to lead a team to a Super Bowl, re­born late in their careers? Or are the Bucs fooling themselves thinking he can create his 2013 magic again?
I was convinced it was the latter, and still lean that way, but after spending time in Tampa, seeing him work and listening to others, I am not as sure about that.
•Jackson is now 31 years old and playing in his 10th season. It's a time when receivers seemingly start to slow down.
Jackson's yards-­per-­catch average was 15.7 last season, the lowest he's had since 2007 when he was with San Diego. It was 19.2 the year before, which might lead to some talk he is slowing down, but the tape doesn't show that.
So-­so quarterback play, coupled with poor line play, led to his numbers going down. But Jackson can still get down the field.
"I've been blessed and I try to take care of my body," Jackson said. "I have a pretty stringent regimen in the offseason. I work hard at my craft. I feel fortunate to play this game. I want to be the guy who stretches the field, the guy who helps open up things for guys underneath. I want to be a dynamic player. I think that's what will help us be successful."
The 6-­5 Jackson will be joined by 6-­4 Mike Evans, their first-­round pick, outside. The Bucs also drafted 6­-5 tight end Austin Seferian­-Jenkins in the second round.
"The guys are getting bigger and bigger around the league," Jackson said. "We're going to take advantage of it. But we're not just going to be a basketball team, big guys going up for balls. Yeah, you have your mismatches and quarterbacks are comfortable in one-on­-one situations with the big guys. Me, when guys turn on the field, I want guys to say he looks like he's 6­1 when he's running routes. So I really try and help the young work on their technique to create some separation. It doesn't always have to be the big­-body guys catching passes that way. Do the things to create separation."
Evans has done some good things so far, but there's been some inconsistency. That's to be expected for a young receiver. Keep an eye on the team using tight end Tim Wright as a slot receiver in some formations.
•The Bucs spent in free agency to upgrade their offensive line. They added left tackle Anthony Collins and center Evan Dietrich-­Smith. With rising talent Demar Dotson at right tackle, three of the spots are solid. The problem is at the guard positions. Jamon Meredith and Oniel Cousins are penciled in as the starters for now, but that might not stay that way. The Bucs will scour the waiver wire and other avenues to try and improve the guards.
•Defensive tackle Gerald McCoy has been a force in camp, even more than the past two seasons, and some think it's because the guard play has been bad. The Bucs never really counted on Carl Nicks, who retired because of health issues (MRSA and a toe problem), but his void really shows up when watching the Bucs work live. Tampa Bay has some young players, like fifth-­round draft picks Kadeem Edwards and Kevin Pamphile, but they need a little more time to develop.
•The feeling around the facility certainly has changed in a big way. The rigid, my­way-or­highway Greg Schiano has been replaced by Smith's easy­going approach.
"One day Lovie will be in the Hall," McCoy said. "You won't hear anyone say a bad thing about Lovie. He got onto the defense earlier this week. He tried to be firm about it. He got his point across and didn't raise his voice. He never curses. He's a player's coach and makes you want to do better. You can't help it."
And Schiano?
"Coach Schiano was much more firm. He did raise his voice. He did get onto us in a lot firmer way. But everybody has their own coaching style. That's his style. Lovie has his."
Odds and ends: The Bucs added corner Alterraun Verner as a free agent from Tennessee and Mike Jenkins from Oakland. The idea was those two would start. But they've both been out with injuries. That has given second­-year player Johnthan Banks a chance to show he should keep his starting job. And he has. Banks has had what the staff described as a good camp. Look for Banks and Verner to be the starters with Leonard Johnson as the nickel corner. ... McCoy is set at one defensive tackle spot, but the other position is wide open. Akeem Spence started some as a rookie last season. But free-agent signing Clinton McDonald, who came over from Seattle, is pushing him. Spence has responded with a heck of a camp. It should be nice three-­man rotation inside for the Bucs. ... Michael Johnson, who signed as a free agent from Cincinnati, will start at right end, but the left end spot is up for grabs. Adrian Clayborn, Da'Quan Bowers and Steven Means are in the mix. Bowers has to pick up his play, or he could be in trouble.