This Sunday's AFC and NFC Championship Games are both rematches form earlier this season.
That gives us a chance to go back and study what happened in those two games to see if any of it can apply here and offer any hints about what might come this weekend, and what could ultimately decide who is going to the Super Bowl.
The Green Bay Packers and Seattle Seahawks will meet in the first game Sunday afternoon. Their first meeting this season was way back in Week 1. It was the first game of the regular season, in fact.
There have been a lot of changes since then, but that game -- also played in Seattle, site of Sunday's game -- which Seattle won 36-16 can offer a real look at what the two teams did well, poorly and not at all.
The New England Patriots and Indianapolis Colts, who met in Week 11 in Indianapolis, will play the second game Sunday night with the AFC title on the line. In the first meeting, the Patriots steamrolled the Colts with a power running game that was led by Jonas Gray rushing for 201 yards. That's interesting now considering the Patriots beat the Ravens last week in a game in which they ran for just 14 yards.
That's the brilliance of Bill Belichick. You never know what's coming from week to week, which infuriates fantasy football players and drives opposing coordinators nuts.
You would expect the Patriots to get back to their power running game this week, but you never know with Belichick. This game is at New England, which should make it even more challenging for the Colts, but I think they are a better team than the one that lost to the Patriots in Week 11.
In studying the two games, neither was as bad as the scores would indicate. The Seahawks led 17-10 at the half in their game, while the Patriots led 14-10 at the half. Both got out of hand late.
Here's a look back at those two games after a thorough tape study.
What has changed since the first meeting?
Packers
Number of different starters: Three
Biggest differences:
• In that game, Jarrett Boykin was the third receiver, but that's now rookie Davante Adams, who had a big touchdown catch last week against the Cowboys and has emerged as another dangerous weapon for Aaron Rodgers. In the first meeting, Rodgers threw for just 189 yards and had a long play of 23. Adams can help change that.
• Clay Matthews was used as an edge player in the first game, but he now is also used on the inside, depending on the down and distance. His ability to play inside has helped improve the run defense. And he's still a dangerous player off the edge. He had a good game on the edge against Seattle in the first meeting.
Seahawks
Number of different starters: Three
Biggest differences:
• No more Percy Harvin. In the first game, Harvin had seven catches for 59 yards and four rushes for 41 on the jet sweeps. He was traded to the Jets in early October after becoming a disciplinary problem. Harvin had one of the biggest plays of the first game, a 33-yard catch. Here's a look:
Two Packers defenders actually picked each other on the play to help free up Harvin on the cross. His speed was a factor in that game. The Seahawks will need more from their outside receivers this time around.
• Defensive tackle Brandon Mebane, their best interior defender, started that night, but was lost for the season in early November with a torn hamstring. Jordan Hill, another tackle, is also gone with a calf injury. That could be a problem against an improved Green Bay running game.
Colts
Number of different starters: Five
Biggest differences:
• Three-fifths of the offensive line that started in the first game will be different this time around. In the first meeting, the center was Jonotthan Harrison, the right guard was Hugh Thornton and the right tackle was Gosder Cherilus. Now it's Khaled Holmes at center, Lance Louis at right guard and Joe Reitz at right tackle. Reitz has done a solid job taking over for Cherilus at right tackle.
• Trent Richardson was the starting running back and Ahmad Bradshaw the backup. Dan Herron, who now starts, had one play in the game and no carries. Bradshaw is out for the season, while Richardson was inactive last week against Denver.
Patriots
Number of different starters: Five (If center Bryan Stork can't play, otherwise four)
Biggest differences:
• Starting defensive linemen Chandler Jones and Sealver Siliga were out for that game and others. They are now back healthy, and Jones has the ability to come off the edge and create speed issues for the Colts' line, which is huge for the Patriots' pass rush.
• Gray ran for 201 yards in that game, but he was inactive last week against the Ravens. Brandon Bolden started at running back, but Shane Vereen got most of the work in the pass-happy offense of a week ago.
Things that stood out from the first meeting
Packers
• They didn't attack Richard Sherman at all, and they tried to be run-heavy early on early downs. They did have some success running with Eddie Lacy, but the drives bogged down. They attacked Byron Maxwell opposite Sherman with Jordy Nelson, who rarely went to the right side, Sherman's side.
• The offensive line was solid early, but when right tackle Bryan Bulaga left with an injury 20 plays in, Derek Sherrod really struggled in his spot. Michael Bennett had two sacks against him, including one that forced a fumble that ended up as safety. The Packers released Sherrod in early November.
Seahawks
• They limited Rodgers to 189 yards on 33 attempts, which means they did a great job of keeping everything in front of them in their Cover-3 concepts. The long pass play was 23 yards to Randall Cobb, a play I will show here later.
• Russell Wilson didn't have great success running it. He ran seven times for 29 yards, but the Packers did a solid job hemming him in for the most part.
Colts
• When a team runs for over 200 yards, the linebackers struggle. And that's what happened to the Indianapolis linebackers that day. The got blocked, took bad angles and missed tackles. Here's a look at one of those plays, a 20-yard run by Gray.
Play: Third-and-1 at Patriots 29 with 3:45 left in the first quarter.
Offense: Tank (2TE, 2RB, 1WR) -- Second TE is backup tackle Cameron Fleming.
Defense: Goal-line look, 10-man box.
The Patriots had the right side block down and Fleming came off the double at the point to get to Jerrell Freeman  (No. 50). Fullback James Develin had the block on safety Sergio Brown. When Freeman tried to go underneath the block of Fleming, it left a huge void for Gray to run through for a big gain. That's a risky, bad play by Freeman. He needed to get into the hole and take on Fleming.
• The secondary did a solid job in coverage against the New England receivers. They picked off Tom Brady twice in the game, with free safety Mike Adams getting both of them.
Patriots
• The Patriots were really physical outside with the Colts receivers. They beat them up at the line of scrimmage and then some. They got away with a few as well. Here's a look at two of those plays:
You can see in the first one that T.Y. Hilton got bumped and grabbed all the way down the field before he was knocked to the ground. In the second one, Darrelle Revis held Reggie Wayne. There were no calls on either play. It will be interesting to see how the officials call this second meeting. Will the Patriots get away with the grabbing a second time?
• The Patriots decided this was going to be a game of power football. They lined up and attacked the Indianapolis defense all game long, much of the time with the Tank formations. The Colts had a tough time with a lot of the movement by the New England line on their power plays. They got handled by moving linemen and pulling tight ends. That can't happen again if they are to limit the run game this time around.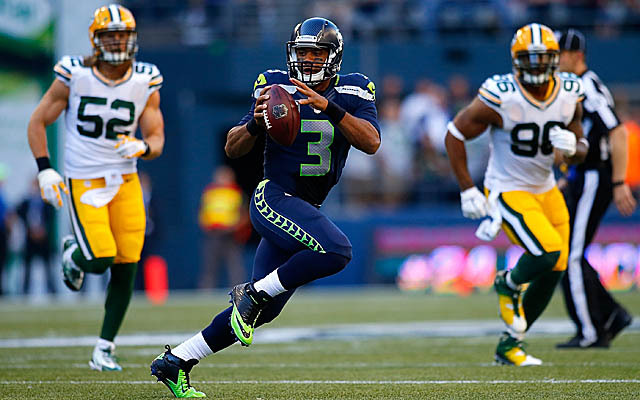 Things that didn't work in the first meeting -- and why
Packers
• Running into eight-man fronts. It's so hard to run on the Seahawks because they keep safety Kam Chancellor, who is built like a linebacker, in the box so much. He is so physical. Anytime there looks like a chance for a big play or a cutback lane, Chancellor seems to be there waiting.
Here's a look at a play from the first meeting with Chancellor down in the box in their Cover-3 defense, although it's actually a seven-man box this time.
Play: Second-and-5 at the Green Bay 46 with 8:58 left in the second quarter.
Offense: Posse (3WR, 1TE, 1RB) Shotgun, offset back.
Defense: Nickel, Single-high safety, seven-man box.
With a favorable run box, the Packers tried to run a power play to the right with left guard Josh Sitton pulling around. The right side of the line blocked down, and Sitton got a block on linebacker K.J. Wright. But middle linebacker Bobby Wagner beat his block and Chancellor was a free runner as the two combined to make the tackle. Chancellor did a great job of reading his keys before attacking the runner.
Seahawks
• The outside receivers didn't do much. Aside from Harvin, current starters Doug Baldwin and Jermaine Kearse combined to have four catches for 22 yards. That won't come close to being good enough this time around.
Colts
• Their ability to handle the Double-A gap blitzes and blitz looks was an issue. With Jamie Collins and Dont'a Hightower flashing in the two gaps all game, it had an impact on the Colts' offense. There were times when they expected them to come, but they would drop out and disrupt the rhythm of the passing game. They didn't get a sack off those looks, but they did influence Luck in a lot of ways.
Here's a look at one of those plays:
Play: Second-and-6 at Colts 24 with 3:08 left in the second quarter.
Offense: Posse (3WR, 1TE, 1WR) -- Three by 1, shotgun set.
Defense: Nickel, man-free, single-high safety, Double-A Gap blitz look (one comes).
You can see the Patriots did a great job with their man coverage underneath. Luck had nobody to go to on time, and Hightower, coming from the A-gap, beat the block of Bradshaw to put pressure on Luck while Collins dropped back into the middle passing lanes to help in coverage. This is something the Patriots used a lot in the first meeting, and I would expect to see it again.
Patriots
• Putting Brandon Browner on tight end Coby Fleener. He destroyed Browner in that game, catching seven passes for 144 yards. He caught five of those for over 100 yards with Browner on him. As big as Browner is for a corner at 6-feet-5, he couldn't handle Fleener's size and strength.
Things that can work this time -- and why
Packers
• Use the check-downs to the backs and tight ends lined up in the backfield. One of the best passing plays for Rodgers in the first meeting came to tight end Andrew Quarless out of the backfield.
Here's a look:
You can see the secondary and linebackers drop out for an easy throw to Quarless for 18 yards. With the Seahawks having so much speed on defense, the check-downs underneath can lead to big plays.
• Throw on early downs. Dictate tempo and take some shots. Run four verticals against the Cover-3. Run some wheel routes outside. Run some levels against it. There are ways to beat it. And don't be afraid to challenge Sherman.
This is the kind of play that worked in the first meeting and can work again.
Play: Third-and-10 at the Green Bay 31, 8:17 left in the third quarter.
Offense: Posse (3WR, 1TE, 1RB) Three-by-1 to the left, shotgun.
Defense: Nickel, two-deep look, but with a robber safety.
The idea of this play is to read Earl Thomas, the lurker in the middle. When he jumps the crossing route by Quarless, it leaves a window behind linebacker Bobby Wagner and in front of Chancellor to make a throw. Rodgers, as he always does, moves slightly to his left to have time to make the throw.
• Spy Russell Wilson and play more zone than man. Don't attack up the field with the pass rush either. Keep him in the pocket and make him make plays from there.
Seahawks
• I can't believe I am saying this, but Wilson needs to run more -- or at least press the defense like he's going to run more. When he gets outside the pocket, he is deadly with his head up. That's something he didn't do a lot of in the first meeting. I bet that changes here.
• Be better with the pass rush. Yes, they had three sacks, but they all came in the second half. They need to get immediate pressure on Rodgers against a Packers line that is one of the best in the NFL in pass protection. If Seattle wins this battle, the Packers will have no chance.
• Don't always go for the big shot. They are a big-hitting team, but that can lead to missed tackles and big plays. Be sound. They usually are that, which is why they are so tough to beat.
Colts
• Use the backs in the passing game. With the Patriots playing so much man-free the first time, there were chances for the backs out of the backfield. The Colts missed a big one to Bradshaw on the first play of the second quarter. Here's a look.
They ran the receivers to the right hard inside, and nobody stayed outside in coverage for the Patriots. Bradshaw was wide open when he slipped out of the backfield, but the pass went off his fingertips. With Herron improving as a receiver, this is something that can work for the Colts in this meeting.
• Be aggressive up front. Don't be afraid to blitz. With corners Vontae Davis and Greg Toler playing good man coverage, go after Brady. Hit him. That's how you get him out of a groove.
Patriots
• Attack LaRon Landry in coverage. We saw the Broncos do it last week early with Julius Thomas. If Landry is locked up in man coverage on somebody, take advantage of it. He didn't play in the first meeting, and Rob Gronkowksi did some good things against Brown. If Landry, a physical player, gets matched up on him in this one, it's a huge mismatch for the Patriots.
• Change up the coverage more this time. Luck is a smart quarterback, and the Patriots have had their way with him. The chess match here is Belichick's smarts against Luck. So far, Belichick has won in the three games against him, with Luck throwing six touchdown passes and eight interceptions. Is Luck ready to change that? Or will Belichick have another masterful plan?
Here are five lesser-known players who could have big impacts this weekend:
Jeremy Lane, CB, Seahawks: Anytime you play the Packers, you need the third corner to be a major factor. Lane missed time this season with injuries, but he's back healthy again and playing an important part in their pass coverage. He might not be Sherman or Maxwell, but he knows how to play inside in the slot, which is huge against the Packers. He will spend time on Cobb, which will be an interesting battle.
Corey Linsley, C, Packers: In the first meeting against Seattle, Linsley made his first NFL start and was solid in the run game. He's even better now and has improved in pass protection. He has been a pleasant surprise, but if they are to run the football this week, he will have to get push. His calls with all the noise will be key as well.
Ryan Wendell, C, Patriots: If rookie Bryan Stork can't go at center because of a knee injury -- and he missed practice this week and hasn't been seen in the locker room -- Wendell would move over from guard to center. He has started there before and was solid when he moved over last week when Stork went down.
Jonathan Newsome, OLB-DE, Colts: This rookie has emerged as the Colts' best pure pass rusher. He had the big strip sack last week against Peyton Manning. He has to be able to get some pressure on Brady this week. The Patriots' tackles were good last week against Elvis Dumervil and Terrell Suggs, so it will be interesting to see how he does against them.
Micah Hyde, nickel corner, Packers: He was a starter at safety in the first meeting, but now is used mainly as a nickel player. He is so versatile that he can cover and play the run. I think he might be used to spy Wilson some in certain situations. That will make him really important.