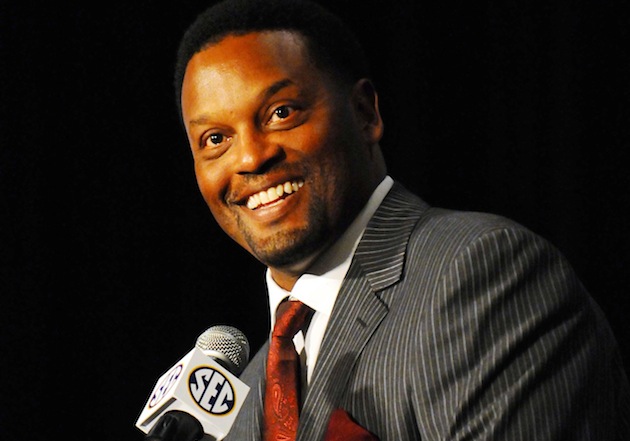 Will Kevin Sumlin be smiling after his first season in the SEC? (US Presswire)
As the season starts up, it's time to fire up the Tuesday Tweetbag and tackle the burning topics that are being talked about in the college football spehere. I'm here to answer questions tweeted to me so make sure you follow me on Twitter at @BryanDFischer. Without further ado, let the smorgasbord of questions commence.
With all the reporters and pollsters already made up their mind on a top ten does a non top10 team stand a chance — Greg Cohen (@vaaggie86)
Absolutely… if they go undefeated. If there are a bunch of 12-1 or 11-1 teams bunched up at the end of the year however, it's unlikely. Toss in the fact that it's traditional powers like Alabama, USC, Michigan and Oklahoma that are in the preseason top 10 and that fact makes it tougher for someone on the outside to make it in. Either way, it's difficult but not impossible. Four teams in the BCS era have won it all after being ranked outside the top 10 and only one -- Auburn in 2010 -- has done it outside the top 20. If you think an unranked team (like Georgia Tech in 1990) can shock everybody, I tend to doubt it. The writers who vote on these things are getting much better at placing teams in this internet age FWIW.
Best chance for a team to get into the title picture outside of the top 10? I'll go with West Virginia, Michigan State and Wisconsin.
do huskies go vanilla against sdsu with LSU on the horizon? Can they afford to? — Don Manuszewski (@Donmanski)
It will be interesting to see what Washington runs against San Diego State but I'd guess they're using the game to work on fundamentals with a new defensive staff and break in 11 new starters on both sides of the ball. The Aztecs lose Ryan Lindley and Ronnie Hillman and have some question marks on both sides of the ball, as one would expect at the beginning of the year. The Huskies have to deal with a solid wide receiving corps featuring Colin Lockett and tight end Gavin Escobar but for the most part this should be a solid foe to open the season. SDSU will test UW but they should still be able to handle them with experienced guys like quarterback Keith Price running the show and Desmond Trufant, Sean Parker and Shaq Thompson patrolling what should be an improved the secondary this season.
I know this sounds like I'm a homer...but who questions LSU in top 4? I could see not being 1 but not in top 4? Top 3 for sure — @BrettLSU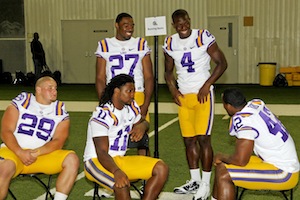 A strong and deep group at running back is one reason LSU should be mentioned in the national title chase. (US Presswire)
This is in reference to my top 10 that I released yesterday that had LSU No. 1 and more than a few fans who disagreed with me on Twitter. I've said this before but I think that seeing LSU hang their heads in defeat during the national title game at the Superdome has colored a lot of folks perception of the Tigers in 2012. Keep in mind they were by far one of the two best teams in the country and though they lose college football's best playmaker, Tyrann Mathieu, they still have a dang good starting 22. Even defensive end Barkevious Mingo mentioned to the media that the Honey Badger would not be missed and one can see why looking at the team this season.
Like many, I believe Zach Mettenberger will be a slight upgrade at the quarterback position (which has been a revolving door in past seasons) and that's in large part because LSU has one of the best stable of running backs in the game with Alfred Blue and Kenny Hilliard among others. Add in guys like Anthony Johnson, Sam Montgomery and a talented player like Jalen Mills replacing Mathieu and I have a hard time seeing how everybody doesn't have LSU topping their preseason polls. The only thing this team is missing is the dynamic offensive threat that seems to be a hallmark of the national champions of the past few years (Richardson, Newton, Ingram, Tebow, etc.) but maybe Blue or Hilliard steps up to guide the Tigers to BCS success this season.
What do you see A&M's record being at the end of the season? I say 8-4 with a bowl win to bring it to 9-4. — KLP (@wreckingcrew44)
More on College Football
Columns

Related links
More college football coverage
Video
Regarding Texas A&M's record, we're in a much better position to see how they'll do knowing Johnny Manziel is the guy behind center. Given the transition, scheme-wise, on both sides of the ball it's still a bit cloudy to see how the Aggies will do but I think they'll put a pretty good product on the field even if the record doesn't necessarily reflect as such. The opener against Louisiana Tech isn't going to be easy, as Bruce Feldman details with Sonny Dykes at the helm, and there are plenty of potholes that litter the schedule. 
I think you can count on five wins for sure in the two Mississippi schools, SMU and two FCS opponents. Let's figure an opening win over the Bulldogs to make it six W's with three L's from Arkansas/Alabama/LSU. That means the Florida/Auburn/Missouri are toss-ups. I wouldn't be surprised if they pull the upset of the Gators given the fact it's the program's first SEC game at home (and the unusual QB rotation Will Muschamp is employing) and can play both Tigers pretty tough. I think 7-5 seems about right for A&M with a decent bowl win and plenty of momentum heading into Kevin Sumlin's second season.
Rank the 5 best ESPN college football talking heads — Jason McIntyre (@TheBigLead)
On the broadcast side it's hard to top Kirk Herbstriet, who is as connected as they come and knows about college football from a player's perspective and as someone who watches a ton of games. I think Brock Huard is a tad underrated but knows his stuff in Pac-12 games, as does Brian Griese. Rod Gilmore has been great on Friday nights for years and there's nobody better, in my opinion, at giving insight into the game being played than Chris Spielman.
Whats up with Pac 12 Network and DirecTV? — Zac Beach (@zacharydaniel)
From everything I've been hearing, sounds like a deal is imminent. There are plenty of things to work through and snags can happen but sounds like DirecTV customers will get at least the national feed of the channel at some point soon. If you're a Dish customer, I'd start looking at other providers. Shouldn't be too long before Verizon and AT&T add the Pac-12 Network as well.