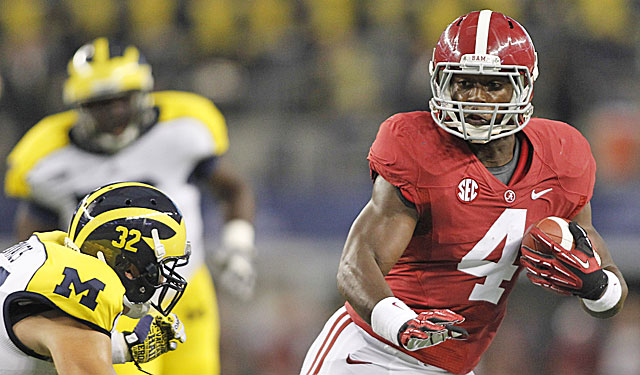 Defense? Check. Freshman T.J. Yeldon? Checkmate for Michigan on Saturday. (US Presswire)
OK, so you -- like me -- thought this will be the year The Streak finally comes to an end. Has to, right? The SEC can't possibly win a seventh straight BCS title, can it?
Well, if you watched even just a little bit of Saturday night's demolition job No. 2 Alabama did on No. 8 Michigan, you probably aren't as skeptical now. The Crimson Tide brutalized the Wolverines on Saturday night in a 41-14 thumping. Nick Saban's rebuilt defense certainly didn't show any signs of growing pains against Heisman Trophy contender Denard Robinson.
Those four defensive standouts that 'Bama had to replace from last year's shut-down squad, the ones who were snatched up in the first 35 picks of April's NFL draft, didn't seem so hard to replace. Not with the way Saban has recruited and developed talent in Tuscaloosa.
Out went Dont'a Hightower, Courtney Upshaw, Mark Barron and Dre Kirkpatrick. Up stepped Dee Milliner, C.J. Mosley and Trey DePriest and Vinnie Sunseri and a crew of other Crimson blurs.
The biggest of Saban's new breakout stars was freshman running back T.J. Yeldon, who displayed nimble feet, spine-jolting power and some uncanny instincts. The kid piled up 111 yards on only 11 carries to become the school's first true freshman to run for 100 yards in his debut. Running behind the nation's best offensive line, the 215-pound Yeldon sold me that he's capable to following in the cleatprints of Mark Ingram and Trent Richardson. Yeldon, along with Eddie Lacy, are going to provide a lethal 1-2 punch for the rest of the SEC and keep pressure off of QB AJ McCarron.
This is what a true powerhouse is supposed to do: Reload. It's been quite awhile since we've seen a program follow up one awesome performance in a national title game with one as equally impressive on another big stage to kick off the next season.
Two years ago, it took that defending national title Tide team a lot longer to figure things out. They lost three games in 2010. The talent was there, but the focus and maturity was not. 
This group appears different, but of course, it is only Week One. Who knows what the next three months will bring, but it sure was quite a statement. And, if you didn't have Alabama as your No. 1 team in the preseason, you probably have reconsidered after watching how they dominated a good, if somewhat overrated Michigan team. I know I did.
The Tide, as become Saban's M.O., almost immediately threw a series of hellacious body shots to Michigan and the Wolverines never recovered. At one point late in the first half, Alabama was averaging more than 9 yards per carry while Michigan had had eight carries and didn't even manage nine rushing yards total.
The Wolverines didn't even get into Alabama territory till they were down 31-0. By halftime, 'Bama led 31-7. Those seven Wolverine points meant that the Crimson Tide has now allowed seven points or less in 17 of its past 18 first halves of play -- a stretch that has included games against eight ranked opponents and four top-10 teams.
"We didn't play Michigan football," Robinson said. "They had a great team. I give them credit, but we didn't come to play ball today. You guys could see that we didn't come to play ball today, and we've got to bounce back from it."
That's not going to be easy.
I'm curious how Michigan responds from such a hammering. Robinson looked rattled almost immediately. His confidence as a passer seems shaken. He throws many of his passes fading back as if he's afraid of what is about to happen, like he's hoping more than throwing. And that only leads to more problems. I still expect Michigan to be a good team in 2012, but this was certainly a strong reminder of even though the Wolverines won 11 games and a Sugar Bowl last season, they also didn't beat anyone in the top 15. The gap between where they are and where they need to get to was shown to be a lot wider than I bet a lot of folks thought. 
The Wolverines get Air Force next. The Falcons are always a hassle to prepare for. Never mind playing AFA a week after you get steamrolled by the most physical team in college football. Making things worse for the Wolverines was the news the school announced Monday morning: starting sophomore cornerback Blake Countess will miss the remainder of the season with a torn ACL.
For the Big Ten, a conference desperate to restore some luster to its image, it was just the latest dud on the national stage. As Jon Solomon, a writer in Alabama points outs, the Big Ten has now lost 10 consecutive non-conference games against top-five teams, and the average margin of defeat of all those losses has been 16 points.
Overall, the Big Ten went 10-2 in Week One. Sounds good, although if anything, the league probably lost even more footing from a perception standpoint. One of its glamour programs, Michigan, got thrashed on the biggest stage of the opening weekend; Penn State was knocked off by a MAC school; Wisconsin had its hands full with Northern Iowa; Iowa barely survived against NIU and Minnesota struggled mightily with a UNLV program that was 4-21 the past two seasons. But there is reason for optimism ...
RANDOM STUFF
• The Urban Meyer-Braxton Miller combination is going to be a massive headache for the rest of the Big Ten and perhaps the rest of big-time college football. And, it is going to be a lot of fun watching the sophomore QB develop. 
Miller came out too fired up Saturday against Miami of Ohio (understandable given the atmosphere of Meyer's debut). The young quarterback missed some open receivers on deep balls. But after opening 1 of 7, Miller settled down and heated up. He hit on six of his next seven throws, including a spectacular touchdown to Devin Smith, while also gashing the Redhawks D with a great burst and some jaw-dropping elusiveness, the kind that Meyer has never had in one of his triggermen. Certainly not to this degree.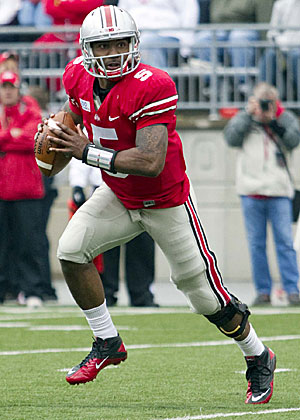 Braxton Miller could improve. A scary proposition for Buckeyes foes. (US Presswire)
By midway through the third quarter, Miller had amassed 370 yards with his arm and legs. In case you were wondering, and I was, Tim Tebow had 338 yards running and throwing in his first start in Meyer's system (against Western Kentucky).  Miller finished with 368 total yards, a new career-best. I suspect that mark won't last for long.
"He's got a lot of room for improvement," OSU offensive coordinator Tom Herman told me Saturday night, calling Miller a "freaky" athlete. "He's got All-American potential in this offense if he keeps improving his decision-making each week like he has been."
• The other young QB I'm really fascinated to watch blossom is Oregon's Marcus Mariota, who opened 10 of- 1 as the Ducks blew away Arkansas State in spectacular fashion, scoring 50 points in the game's first 23 minutes. Mariota's generated plenty of buzz inside the Ducks program and we're starting to see why. Watching that game, you couldn't help but think that if Chip Kelly was in a bad mood, the Ducks easily could have scored more than 100 points against an ASU team that won 10 games last season.
• When the country last saw Geno Smith and West Virginia, the Mountaineers were boat-racing Clemson in the Orange Bowl. They picked up right where they left off, obliterating the Marshall defense in a 69-34 romp. Smith's numbers these two games: 10 TD passes, 0 INTs; over 80 percent completion rate.
Some teams put up staggering numbers early because they're whipping up FCS programs. Marshall has some legit athletes and talent, as did Clemson. Early Sunday morning, I asked Thundering Herd DC Chris Rippon how much better he thought WVU is from last year now that Smith and Co. have had a year to better hone their timing and understanding of Dana Holgorsen's system?
"Their O-line is very good," he said. Keep in mind WVU got back standout OG Josh Jenkins, who had been the team's top linemen but missed 2011 because of a knee injury. "They were excellent in the bowl game and played the same way [Saturday]. Geno is Geno: Confident. Knows defenses and gets them into the right play."
If Smith stays healthy, I'll be stunned if he's not a Heisman finalist. WVU and Oregon have become must-see TV for any football fan, college or pro.
The not-so-good news for Holgorsen: his D allowed 545 yards, 413 yards through the air. But there is also time for the young WVU secondary to jell. Most of the better passers on their schedule play the Mountaineers in the second half of the season.
• I expected Penn State to defeat a good Ohio team. I figured with all of the emotion swirling around State College and the Nittany Lions experience and talent on D, they'd be able to handle QB Tyler Tettleton. And for while, that looked like the case. Penn State had a 14-3 lead, but the Nittany Lions seemed to struggle balancing all of that adrenaline.
Ohio hung around. Kept scrapping. Tettleton and Ohio, who began the game only 2 of 9 on third-down conversions, got into a rhythm and picked apart the PSU D with slant pattern after slant pattern. The Bobcats went on to convert on 10 of their next 11 third-down tries and outscored Penn State 21-0.
As Nittany Lions beat writer Ben Jones noted Sunday morning, in the past four seasons Penn State has given up four scoring drives of greater than 80 yards at home, but they gave up two on Saturday -- 82 and 93 yards.
Frank Solich and his team got overshadowed by all of the focus on everything going on around that game, but he and his program deserves a lot of credit. Ohio's schedule going forward is very, very manageable -- with a trip to Marshall looking like the biggest hurdle standing in the way of a 12-0 season.
Speaking of Penn State, I noticed a tweet from the Sporting News' Steve Greenberg that made me do a triple-take. "Jay Paterno tells me he's compiling many of negative tweets sent to him for an upcoming 'project' he's working on."
• Hard to find a QB with a more favorable situation than what USC's Matt Barkley has right now. He's got an experienced O-line, anchored by one of his childhood best friends, All-American center Khaled Holmes; two 1,000-yard running backs and the best 1-2 receiving tandem in college football. In junior Robert Woods, he has the smoothest and perhaps the most polished receiver in the country, but it's the other guy, sophomore Marqise Lee who may emerge to be the biggest star of this entire offense down the road.
The 6-foot-1, 200-pound Lee, who doubles as a jumper on the Trojans track team, grabbed the first pass of the game on a little out route and sprinted 75 yards for a TD. A bit later, Lee raced 100 yards up the sideline on a kickoff return for a touchdown. He finished with 191 receiving yards on 10 catches and could've gone well over 200 if not for a drop earlier in the game on a well-thrown deep ball.
• Yeldon wasn't the only true freshman running back to dart onto the national radar in college football. Georgia's Todd Gurley and Miami's Duke Johnson look like godsends to two programs with a huge need at the position.
Gurley scored twice on his first three touches, making folks go "Isaiah Who?" by halftime. I realize it was only Buffalo, who last year was 86th in rushing defense, but Gurley, a tall, big back who has breakaway speed, looked like the kind of freakish talent the Georgia Bulldogs should have in their backfield. The Dawgs do have a rebuilt offensive line that still has issues, but it seems like they may have answered their tailback question already.
Gurley makes his SEC debut next week when Georgia visits Mizzou. The Dawgs' D, playing without five starters, was shaky against Buffalo. The Bulls had three touchdown drives of 75 yards or more and ran for almost 200 yards. Georgia really needs to step it up in Week Two against a much, much more dangerous offense with a dual-threat QB and some towering, athletic receivers.
Johnson fills an even bigger need for the Canes, who desperately need some good vibes. Remember, he was the same local blue-chip kid, who in the wake of the Nevin Shapiro storm  stayed committed to UM and became a driving force for what shaped up as a shockingly strong class. Johnson sparked Miami on Saturday with two long TD runs of more than 50 yards to break the game at Boston College open as UM get out of a 14-0 hole. Just how big of a splash did the 5-9, 190-pound freshman make Saturday?
After Johnson broke off a 56-yard TD run early in the second half, LeBron James tweeted this out to his near six million followers:
"Duke Johnson is the truth out there for the U! True freshman. ### Speed kills."
It does, but Johnson has more than just great speed. He has phenomenal balance and surprising toughness and strength. People will talk a lot about the two long TD runs, but it was also his effort and grit on a fourth-and-1 carry late in the first quarter that had to please Al Golden. Johnson rammed through three defenders to gain the first down. (BC was also flagged for a face-mask on the play.) In all, Johnson produced 214 all-purpose yards on just 13 touches.
My hunch is Johnson just might make Miami nationally relevant again. If he stays healthy and QB Stephen Morris continues to display the impressive tools that have had people inside the Canes program pretty optimistic the past few months, Miami should be better than a .500 team this year despite its young and shaky defense. 
• Hats off to Clemson OC Chad Morris and the Tigers. No Sammy Watkins. No problem. Playing with a re-tooled O-line making its debut against a very talented Auburn defensive front, Andre Ellington ran for 231 yards and DeAndre Hopkins sets a school-record with 13 catches in the Tigers' 26-19 win over their SEC opponent. And QB Tajh Boyd looked improved, running and passing even if a few of his receivers did have some trouble hanging onto the ball.
• Hold off on all the jokes, Nebraska's Taylor Martinez lit up Ellis Johnson's Southern Miss D for 354 passing yards and five TDs. No, Martinez's mechanics won't evoke images of Troy Aikman or Tom Brady, but the speedy Cornhusker -- who has worked very hard to boost his ability in the passing game -- certainly was efficient. By halftime, Martinez had already connected with 10 different receivers.
• Good start, Everett Golson. I suspect by midseason or probably sooner, people will realize how silly those comments Joe Montana in reference to Notre Dame's young QB were. No question, the Irish have some speed, and it was well illustrated on reserve RB George Atkinson III's long TD run and on the fumble recovery scoop and score by 305-pound D-lineman Stephon Tuitt. The downside for ND? The Irish secondary looks very suspect. Navy QB Trey Miller was 13 of 15 for almost 200 yards only a minute into the second half by attacking the Irish secondary. Navy, which averaged only 86 passing yards in 2011, was also playing without its best receiver.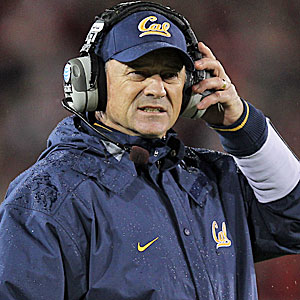 Jeff Tedford may be noticing a rise in temperature after losing to Nevada. (Getty Images)
• Junior college players often arrive at big programs with a lot of hype. For every Cam Newton and Nick Fairley, there are plenty more Brent Schaeffers. More than half the time, these players don't live up to it. Tennessee, which held its breath for a bit waiting to see if Cordarrelle Patterson would qualify, has to be delighted by what the big wideout has brought the program. Patterson torched N.C. State on Friday night, easing the loss of Da'Rick Rogers almost instantly. In fact, he and Justin Hunter could -- if they can produce more like they did in the Georgia Dome -- give USC's WR tandem a run for its money.
• Hot Seat update: Jeff Tedford has done a really good job at Cal over the past decade, but the temperature just went up around him about 20 more degrees. Losing at home to Nevada program that was 2-22-1 all-time against the Bears really stings. Worse still, after playing Southern Utah, the Bears have back-to-back trips to Ohio State and USC meaning a 1-3 start looks almost like a lock.
• Good win for Duke's David Cutcliffe, beating a talented FIU team in Miami 46-26. Cutcliffe has been outspoken about how much better he expects the Blue Devils to be, and this was a strong first step. Conner Vernon, Duke's vastly underrated wideout, had 10 catches for 180 yards in his homecoming.
• Most college football fans know about John Simon, Ohio State's relentless D-lineman. Till this morning I'd never heard of Johnnie Simon, Western Michigan's safety from South Florida. WMU's Simon, a 6-0, 197-pound junior, was a very busy guy Saturday, making 18 tackles in a 24-7 loss to Illinois. Turns out, Johnnie Simon's also got one heck of a story to tell as detailed in this moving piece by David Drew.
• Stat of the Day: Through Monday morning, only three of the 50 teams at the FBS level that were on the plus side of the turnover margin lost their opener.
• Bjoern Werner, FSU's standout DE via Germany, wasn't on the field for that many snaps in the 'Noles' easy win over Murray State, but he still found time to notch four sacks and five TFLs.
*Randy Edsall and Maryland won a game, although edging William & Mary 7-6 was far from impressive. The win gives him three Ws in a year-plus since landing his "dream job." Unfortunately, two of those wins have been over FCS programs. And that other one, in his debut in 2011, was against a Miami team devastated by numerous player suspensions.
*The experts in Vegas have made Georgia a 3.5-point favorite over host Mizzou this weekend. The Tigers were 2-1 against Top 25 opponents visiting Columbia the past two seasons while the Dawgs were 6-9 away from the Athens the past two years. Hmmmm. 
• If you stayed up late to watch the Oregon-Ark State game, you saw that the well-travelled Josh Jarboe is still in D1 football. Jarboe, who began his career at OU, caught 13 passes, but only managed 66 receiving yards.