On Feb. 6, Edward Williams, a three-star linebacker from New Orleans who boasted offers from Miami, Nebraska and Texas A&M, among others, had made up his mind: He would sign a national letter of intent to play for Texas Tech. The decision was a major coup for the new Red Raiders coaching staff, with one minor hitch -- Williams' mother.
Because Williams is only 17 years old, his letter of intent required a parent's signature to accompany his own, which proved to be a problem when his mother refused to sign off for any school except the one next door: Tulane, which is located less than 15 minutes from her son's downtown high school. On Saturday, nearly a month after signing day, Mom won out when Wiliams signed with the Green Wave.
"My son made the decision last night, and we discussed it as a family," Rose Williams told a local website, PelicanPreps.com. "I always felt Tulane was the best option for my son, but he had to choose where he wanted to go. Him and his father went to Tulane and signed early this morning.
"Tulane just made me feel more comfortable with what they have to offer academic wise. Edward took notice to the same thing and he decided to stay home."
If that's the case, it seems he only took notice of Tulane's sometime after Feb. 21, when he told the same website in no uncertain terms, "It's Texas Tech all the way."
"I am going to Texas Tech, I have my heart set on them," said Williams. "The fans are crazy out there. I like everything about it. I can see myself playing there."
[…]
"Right now things have been shaky, because my mother does not want me to go to Texas Tech," said Williams. "She has her reasons, but I still prefer to be in Lubbock. She really wants me to go to Tulane, but I do not like it there. So it has to be where I am happy."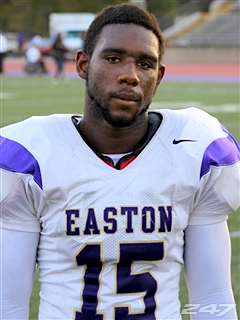 Williams is rated as a three-star prospect. (247Sports)
Although generational conflict over big decisions is certainly nothing new, the increasingly microscopic focus on recruiting has managed to turn family disagreements into headline news. Last month Alex Collins, a five-star running back from Fort Lauderdale, Fla., had to wait 24 hours to sign a letter of intent with his school of choice, Arkansas, because of the ongoing objections of his mother, who had reportedly absconded with the papers the day before to prevent him from becoming a Razorback. Five-star linebacker Matthew Thomas, bound for Florida State, recently told a reporter that he only settled on the Seminoles because his mother refused to sign off on his first choice, USC. Last year, when five-star safety Landon Collins picked Alabama on national television, his visibly nonplussed mother responded by telling the audience "LSU Tigers number one, go Tigers." Two years ago, the mother of four-star cornerback prospect Floyd Raven was so dead set against her son playing for Texas A&M that she actually forged his signature on a letter of intent to Ole Miss. (The gambit didn't work.) Surely, many similar dramas play out behind the scenes.
In Williams' case, according to a weekend interview with the Times-Picayune (see above), his about-face is due at least in part to his mother's health, specifically a heart condition; he also cited the influence of Tulane coach Curtis Johnson, a New Orleans native, and his opportunity to play right away for one of the most perennially overmatched outfits in the nation. At any rate, whatever his true feelings on the relative merits of the Green Wave vs. the Red Raiders, he was singing a very different tune about staying close to home after making his peace with the former.
"It was a family decision -- my parents and grandparents, so everybody in the family had a big part of it," Williams said. "I'm very comfortable [with Tulane], very comfortable. … I like the coaches and players and the facility. I'm still going to be at home but not home at the same time. I'm going to get a wonderful education."