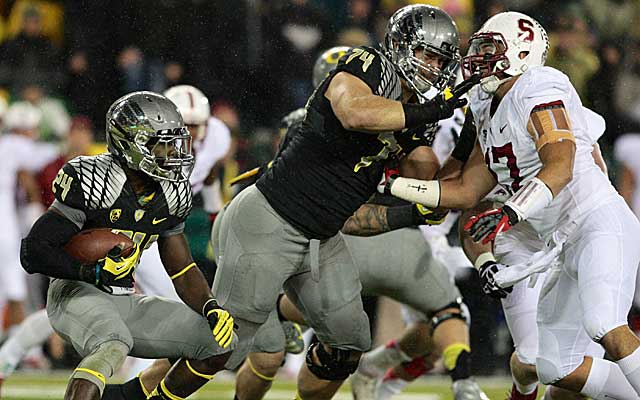 The Stanford defense slowed down Oregon, holding the Ducks 41 points below their season average. (US Presswire)
EUGENE, Ore.— As Oregon's BCS title hopes faded on a chilly night at Autzen Stadium, Stanford players sprinted all over the field, dancing and celebrating.
The Cardinal, a three touchdown underdog, had derailed the explosive Ducks attack and were led to victory by a freshman QB making his first road start. While his teammates rejoiced, though, quarterback Kevin Hogan walked up to the only other Stanford guy who seemed to be taking the whole stunning scene in stride -- coach David Shaw.
"Hey, sorry about that last fumble," Hogan told Shaw, referencing a moment in overtime that shook up the Cardinal sideline. Stanford recovered the ball after a wild scrum. One play later kicker Jordan Williamson drilled a 37-yard field goal to give the Cardinal a 17-14 victory.
Hogan's play has been a revelation for the Cardinal in the past month since he took over for the struggling Josh Nunes. Hogan connected on 25 of 36 attempts for 211 yards, while often extending plays with his feet after getting pressured.
"I just tried not to force anything and take what was there," said Hogan matter-of-factly.
Meanwhile, almost as jaw-dropping as the young QB's performance was how the Cardinal defense did something no team had all season: contain the Ducks. Stanford held Oregon, an offense that had been averaging 55 points, to just 14.
Shaw, though, wasn't getting too caught up in the Cardinal shaking up the Pac-12 or ruining the Ducks' dream season. Or the fact that Stanford had not won at Autzen Stadium since 2001.
"I told our guys we don't get a trophy for this," Shaw said.
"Our word of the week was 'resolve,'" Shaw said. "We knew we would have to withstand the mad rush we were going to get from Oregon."
They did. Aside from a 77-yard run by Marcus Mariota, the Cardinal didn't allow any play longer than 28 yards. For that Shaw credited his players and coaches, but also mentioned Stanford's recruiting. On that long Mariota run, the speedy Duck QB was chased down by DB Devon Carrington, an effort which Shaw said might've been the play of the game.
"We are much faster (than we used to be) on the back end. Some runs that were about to be 20-yard runs went for only 12 yards," Shaw said. "We've got speed."
Stanford held Oregon 158 yards below its season average and limited the Ducks to just 4 of 17 on third downs.
"Our defense never gets enough credit," Shaw said. "We stunted, we twisted -- we tried to make 'em run laterally."
"It really was a total team effort," said Cardinal LB Shayne Skov, who had a team-high 10 tackles. "It was 11 guys playing fast, and if one guy made a mistake, the other 10 guys were there. Hogan played unbelievable. He's a real clutch (friggin') player."
For as much as we all tend to get caught up in "stars" and things like the Heisman, the Cardinal are a throwback team. Yeah, their young quarterback was impressive, as was their standout tailback
Stepfan Taylor
(who ran for 156 yards), as were so many players on a stacked defense.
But the real star who has emerged in this season for Stanford -- in the year where the Cardinal had to move on in the post-Andrew Luck era -- has been Shaw. No situation ever seems too big for the 40-year-old former Cardinal wideout, who is now 20-4 in two seasons since taking over for the bombastic Jim Harbaugh.
It's Shaw's way whenever one of his players has had a costly mistake to give them a moment and then approach them on the sidelines and build them back up. Like he did last year after Luck threw a pick-six at USC before the Cardinal great responded by winning that game. Or like when went up to Taylor Saturday night after the third quarter ended moments after the powerback had fumbled and said, "I'm gonna need your best quarter. We're gonna ride you." 
"(Shaw) is just so calm and collected," said Stanford AD Bernard Muir. "You can see how he relates to the kids and how the kids believe in him and how he's able to maintain his coolness."
Shaw's team's resilience may have been best evidenced by a moment late in the fourth quarter. Williamson had just missed a 43-yard field goal with the Cardinal trailing 14-7. Shaw had given the junior a few moments to think about what had just happened. Then the coach went over to Williamson and put his arms around him. "I looked him right in the eye and said, 'It's time to grow up. I don't want to talk anymore about how talented you are. Make the kicks.'"
Not long after Cardinal center Sam Schwartzstein offered the kicker his own pep talk. At the time, the Autzen crowd was roaring. The score was tied at 14-14. Oregon had the ball and here was Schwartzstein telling Williamson, "You ARE gonna win this game for us."
Remember, it was Williamson, who had missed two crucial kicks late in Stanford's Fiesta Bowl loss to Oklahoma State last year.
"Our kids keep on fighting," Shaw said. "They keep fighting all the way to the end. We knew if we got into the fourth quarter we were going to give ourselves a chance to win, and that's what our guys did."
The brash Harbaugh had worked wonders with Stanford, elevating a dreadful program into a legit national powerhouse. Many thought after Harbaugh (and eventually Luck) left Palo Alto that the Cardinal would eventually drift back off the national radar, but Saturday night was just more evidence that the Cardinal may just be beginning a special run, dismissing any of the skepticism that you can't win big in major college football with the highest of academic standards.
Much like it did when Stanford beat USC in September, the Cardinal turned the game into "a Stanford kinda game" -- a physical, slugfest. At the half, it was 7-7.
"We told our guys in the locker room (at halftime), that team in the other locker room is not built for this kind of game," Stanford offensive coordinator Pep Hamilton said.
Two hours later, the team that loves to refer to itself as Nerd Nation was dancing at midfield.
Well, all except their young QB and their coach.