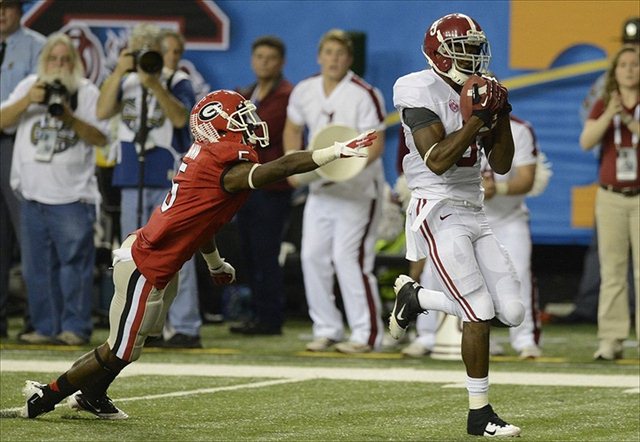 Alabama's Amari Cooper was one of many high-impact SEC freshmen. (US Presswire)
Maybe more than any year in recent memory, the SEC's 2012 All Freshman team isn't as much a reflection of the league's future as its present -- players like Johnny Manziel, Todd Gurley, John Theus, Brandon Shell, Amari Cooper, Mike Evans, Jalen Collins, Denzel Nkemdiche and Trey Williams are already among the league's best (or even the nation's best) at their respective positions.
Which makes the team arguably an even bigger honor than it would normally be. Here's the complete team, released by the SEC office Thursday, with notes to follow:
2012 FRESHMAN ALL-SEC FOOTBALL TEAM

(*-Ties) (Coaches could not vote for their own players)

FRESHMAN ALL-SEC -- OFFENSE

TE -- Jerell Adams, South Carolina

OL -- John Theus, Georgia

OL -- D.J. Humphries, Florida

OL -- Brandon Shell, South Carolina

OL -- Vadal Alexander, LSU

C -- Ryan Kelly, Alabama

WR -- Amari Cooper, Alabama

WR -- Mike Evans, Texas A&M

QB -- Johnny Manziel, Texas A&M

RB -- Todd Gurley, Georgia

RB -- T.J. Yeldon, Alabama

AP -- Trey Williams, Texas A&M

FRESHMAN ALL-SEC -- DEFENSE 

DL -- Dante Fowler, Florida 

DL -- Jonathan Bullard, Florida 

DL -- Issac Gross, Ole Miss 

DL -- D.J. Pettway, Alabama 

LB -- Denzel NkemdichE, Ole Miss

LB -- Benardrick McKinney, Mississippi State 

*LB -- A.J. Turner, Arkansas

*LB -- Otha Peters, Arkansas

*LB -- Antonio Morrison, Florida

DB -- Jalen Collins, LSU

DB -- T.J. Gurley, South Carolina

DB -- Rohan Gaines, Arkansas

DB -- LaDarrell McNeil, Tennessee

FRESHMAN ALL-SEC SPECIAL TEAMS

PK -- Andrew Baggett, Missouri

P -- Landon Foster, Kentucky

RS –- Trey Williams, Texas A&M 
Observations:
There are 12 teams represented on the list, with Auburn and Vanderbilt the only absentees. Combined with Auburn's shutout on the AP All-SEC team, it's easy to understand how the Tigers slipped to their first winless season in the league in more than 30 years.
Missouri was also shut out everywhere but at placekicker, which will be a disppointment to the Tigers and guard Evan Boehm, a highly touted true freshman who started every game and was a surpising anchor for Mizzou's injury-ravaged line. Alabama's Ryan Kelly is a fine prospect but played sparingly behind All-American Barrett Jones at center --perhaps on an All-Freshman team, with so few candidates, the SEC should waive the requirement to name a center, in order to recognize an actual game-in, game-out contributor like Boehm.
On the heels of his second-team All-SEC nod from the AP, Nkemdiche's All-Freshman honor is another strong rebuttal to the doubters who dismissed his original offer from Ole Miss as nothing but a ploy to lure his younger brother (and 2013 consensus No. 1 prospect) Robert. Wherever Robert lands or however he plays, Nkmdiche's impressive freshman season -- 78 tackles and 12 of them for loss, both team highs -- has established him as a star in his own right.