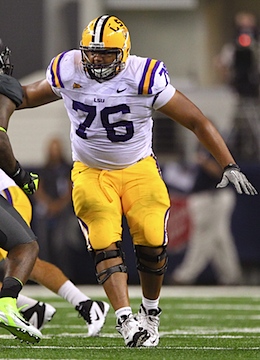 It won't generate the kind of headlines or hyperbole that followed the departure of the Honey Badger last month, but the latest hit to LSU's lineup may turn out to be just as big – literally and figuratively: According to the Times-Picayune, 6-foot-6, 325-pound left tackle Chris Faulk has been ruled out for the season with a "major knee injury" that will likely require surgery and extensive rehab. With that, the Tigers lose arguably the strongest piece of arguably the strongest offensive line in college football.
LSU has not confirmed Faulk's prognosis, though he had already been ruled out of Saturday's game against Washington after going down in practice on Wednesday. "It looks like Faulk's got a bit of an injury, we don't know exactly how bad," coach Les Miles told reporters after that session. "We hope to return him to the game sometime soon." Sorry, coach.
Opinions varied wildly on Faulk as a recruit out of Slidell, La., in 2009, the more optimistic of which pegged him as a borderline five-star due mainly to his colossal size. Last year, he started 13 of LSU's 14 games as a redshirt sophomore, including the SEC and BCS championship games, and came in for a second-team all-conference nod by the Associated Press. (It may be impossible to measure a left tackle statistically, but for what it's worth, LSU's line as a whole allowed fewer sacks in 2011 than any other team in the SEC, and the Tigers led the nation in fewest giveaways.) NFL draftniks, also enamored with his size, overwhelmingly projected Faulk as a likely first-round pick if he decided to put his name in the draft next spring.
Wednesday, after Faulk was ruled out for this weekend, Miles said he may plug sixth-year senior Josh Dworaczyk, a former starter at guard, into Faulk's position at left tackle, or may shuffle the current lineup by moving left guard La'El Collins or right tackle Alex Hurst to the left side. (If it's Collins, Dworaczyk would likely assume his old position at guard; if it's Hurst, his spot on the right side would fall to 6-6, 350-pound true freshman Vadal Alexander.) At any rate, quarterback Zach Mettenberger's blind side just got a little less secure.