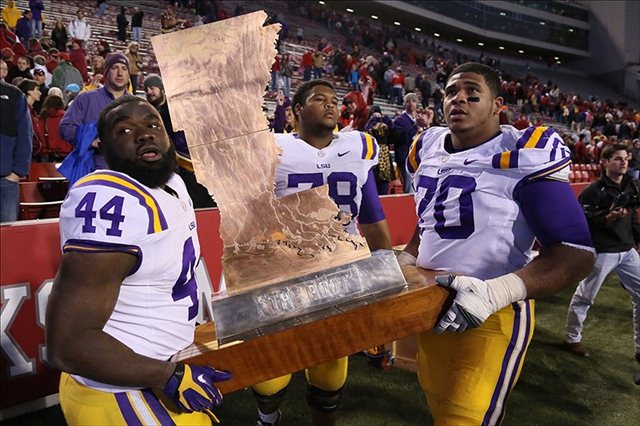 LSU brings the Golden Boot back to Baton Rouge. (US Presswire)
LSU WON: It wasn't a thing of beauty -- how many of Les Miles' victories have ever been ones you'd hang in a college football victory art gallery? -- but the Tigers wrapped up another 10-win regular season by surviving the brutally mistake-prone Hogs. The Tigers were outgained by a full 153 yards, but turned an 87-yard Michael Ford kickoff return into a critical second-half touchdown, held the Hogs out of the end zone on a fourth-quarter second- and third-and-goal from the 1, and forced an incompletion from the impressive Tyler Wilson on the game's final play to seal the win. 
While Miles will receive deserved plaudits for his decision to throw on third-and-10 with LSU attempting to run out the clock late -- resulting in a huge gain to Odell Beckham Jr. to set up the Tigers' final field goal -- what will certainly be John L. Smith's final game as Arkansas head coach will go down as Exhibit A as to why he won't be retained. On that fourth-quarter fourth-and-goal from the 1, down 17-10 -- and thus needing a touchdown whether he kicked or not -- he opted for a 17-yard field goal. Later, his team having already crossed midfield and still down 17-13, Smith sent the punting unit on the field on fourth-and-4 at the LSU 45. Though the Hogs nearly pulled off the win despite Smith's lack of gumption, Razorbacks supporters (and quite possibly Smith himself) will wonder what might have been with just a little bit of aggression from their head coach. 
WHY LSU WON: Season after season, week after week, Les Miles' LSU sees its offense flail, its defense bend, its stat sheet show a litany of failures ... and the scoreboard fall in its favor anyway. No annual BCS contender wins more often when being outplayed down to down, and yes, much of that is LSU's defensive aggressiveness and special teams excellence. Some of their victory Friday was, yes, down to those factors -- Ford's game-changing kick return, for instance, or the stuff of Wilson's sneak on the critical goal-line sequence mentioned above.
But if Miles is accused of riding his luck more often than he does, against Arkansas that's an accusation he'd have a hard time deflecting. Zach Hocker's two missed first-half field goals (the first of which was blocked, but on a low trajectory), for instance: LSU didn't have a lot to do with that. Smith's cowardly, mathematically indefensible game decisions? Unless Miles has some sort of X-Man-style mind-fogging ability, that's not on LSU, either. The false start penalty on wide receiver Kadron Boone that nullified a Zach Mettenberger fumble inside his own 20 late in the second half? The clock running out after the game's final play when replays showed there seemed to be a second left? Come on. Even Dennis Johnson's fumble inside the 5 on Arkansas's first drive of the game could politely be termed a "break."
LSU deserves credit for the many big plays -- none bigger than Mettenberger's throw to Beckham to leave Arkansas in desperation mode -- but this was one case where it really was better for Miles to be lucky than good.
WHEN LSU WON: Not until the final snap of the game, from the LSU 18, when Wilson's final pass flew through his receiver's hands in the end zone.
WHAT LSU WON: Not the SEC West title they wanted when the season began -- for that, they'll need a miraculous Auburn upset of Alabama -- but a third consecutive 10-win season in a division as challenging as the West is absolutely nothing to sneeze at. If the chips fall correctly, the Tigers could still snag a BCS bowl berth, too. 
WHAT ARKANSAS LOST: An eighth game of the season, something that would have seemed unthinkable last, say, February. Then Bobby Petrino wrecked his motorcycle, and everything has gone downhill from there.