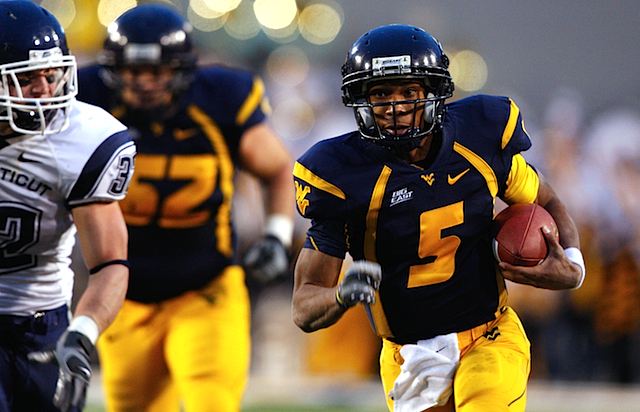 White accounted for more than 10,000 yards of total offense and 103 touchdowns as a Mountaineer. (Getty Images)
Geno Smith may be the most coveted quarterback in the 2013 draft class, but as far as West Virginia fans are concerned, he may not even be the best Mountaineer quarterback on the field when scouts flock to Morgantown on March 14 for pro day workouts. As of Tuesday, the title could belong instead to 27-year-old, ex-Mountaineer great Pat White, who left WVU just as Smith was arriving in 2009, and now plans to return to his alma mater to revive his career after a three-year hiatus.
"Relaunch" was the word used by White's private coach, George Whitfield, who announced the pending comeback Tuesday night in a series of tweets that included photos of White working out in Whitfield's California facility and praise for his client's "seamless transition" from baseball. White, an Alabama native who currently lives in Fort Lauderdale, Fla., has already attempted to gin up interest by traveling to the Senior Bowl in January and connecting with as many NFL coaches, scouts and front office types as possible.
"I just wanted to come show my face and show my interest," White told reporters last month. "Shake hands, get names, put names to faces and I guess let them know that my body is still healthy, my football mind is still intact, and I want to give it another shot."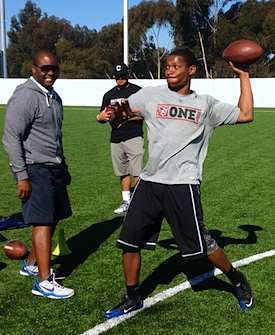 White plans to throw for pro scouts on March 14. (@georgewhitfield)
White and other former Mountaineers will work out later in the day than Smith and current prospects. Although Whitfield has been in the business for more than a decade, his reputation as a quarterback guru has really taken root in the last three years, in which time he's assembled a formidable client list that includes Ben Roethlisberger, Cam Newton, Andrew Luck, Donovan McNabb and, most recently, Braxton Miller of Ohio State. For the upcoming draft, he's working with Oklahoma's Landry Jones and Arizona's Matt Scott. But in White's case, he said, the most important element is "learning to beat chaos" – that is, to remain focused and complete passes when the pocket begins to break down in front of him.
At West Virginia, of course, White was better known for creating chaos in defenses than enduring it, racking up a 34-8 record as a starter with a pair of top-10 finishes in Heisman voting and school records for total offense (since broken by Smith) and touchdowns. He was a three-time All-Big East pick, twice won Big East Offensive Player of the Year and left as the only quarterback ever with a 4-0 mark in bowl games, including a pair of BCS upsets over Georgia in the 2006 Sugar Bowl and Oklahoma in the 2008 Fiesta Bowl. And for his final trick, White was also MVP of the 2009 Senior Bowl, where he convinced the Miami Dolphins to make him a second-round pick.
It was downhill from there. In his only season in the league, White attempted just five passes off the bench, completed zero and had to be carted off the field in the season finale after being knocked unconscious on an infamous, helmet-to-helmet hit from the Steelers' Ike Taylor. He returned in 2010 to take a handful of snaps for the Dolphins in two preseason games, but never gelled with coaches, was cut before the start of the regular season and left the league for a brief stint in pro baseball. In 2011, he tried to catch on with the Virginia Destroyers, one of four franchises in the fledgling United Football League, but never saw the field. Last summer, he told local reporters in West Virginia he was "working in the world of arts"and wanted to become an actor.
In the meantime, though, the definition of a "prototype" NFL quarterback has been dramatically expanded by the success of Collin Kaepernick, Robert Griffin III and Russell Wilson, all of whom led playoff runs as first-year starters in offenses that forced defenses to respect their ability to run – offenses that at times looked a lot like the zone-read schemeWhite executed to perfection at West Virginia. As a runner, White is (or was) the equal of all of the above, and any other college quarterback you can name. But while the Dolphins paid lip service to using him in one-dimensional "Wildcat" packages, there was no commitment to integrating a running quarterback into the system as a whole, a familiar concept for college offenses that is finally beginning to gain traction in the pros.
What those "next generation" stars have that White lacks, however, is a) Prototypical NFL size – at 6-foot, 190 pounds, White is a risk regardless of his style – and b)A prototypical NFL arm. As a recruit, White's mediocre arm almost kept him from becoming a quarterback in the first place, and would have if he hadn't landed in an offense that emphasized his athleticism; in Rich Rodriguez's scheme, the quarterback only has to throw well enough to keep defenses from overloading against the run.
Which he did, way back when. Given his initial track record at the next level, though, the barrier to reentry is higher than ever.