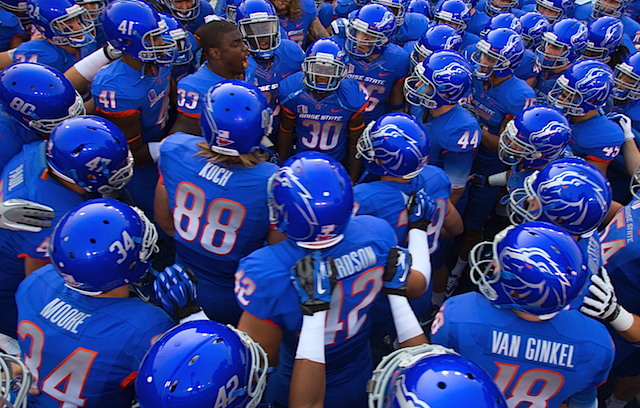 A proposed NCAA rule would ban Boise's all-blue motif in any home game. (Getty Images)
Earlier this month, the NCAA released a list of proposed rule changes for the 2013 season. One of them, clearly aimed at Boise State's preference for wearing all-blue uniforms on the "Smurf Turf" at Bronco Stadium, would require teams to "have either their jersey or pants contrast in color to the playing field." And if anyone should on board with that requirement, it's Mountain West commissioner Craig Thompson.
It was Thompson, after all, who responded to complaints from opposing coaches by instituting an identical rule after Boise State joined the conference in 2011, forcing the Broncos into an array of combinations for Mountain West home games: In 2012 alone, Boise showed up for MWC dates in gray jerseys with blue pants, in orange jerseys with white pants, in blue jerseys with black pants, even once decked out in all black. It was only in non-conference games that they were able to indulge in the all-blue motif, and the new NCAA rule would nix that, too.
But the original Mountain West rule was passed before Boise State decided to break its engagement with the Big East to remain in the MWC, thereby stabilizing the latter for the foreseeable future while simultaneously sending its suitors from the Big East into a tailspin. In light of that move, the Mountain West agreed to drop its ban on monochrome uniforms, and in light of the proposed national ban, Thompson is urging the NCAA to do the same.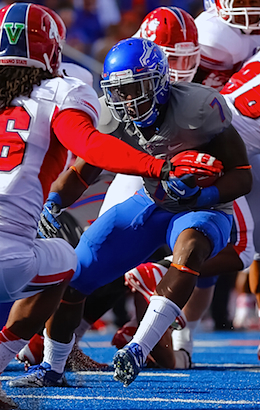 Boise has unveiled multiple color combinations in conference games. (Getty)
In a letter addressed to Ty Halpin, the NCAA's Associate Director of Playing Rules Administration (and obtained by the Idaho Statesman), Thompson goes on the record to fight for Boise's right to an all-blue party:
The MW, on behalf of member institution Boise State University, is strongly opposed to the suggested change which states "either the uniform pants or the jersey must clearly contrast with the color of the surface of the field of play." As you know, Boise State Football is known for its signature blue turf. For a majority of their history, they have worn blue pants and blue jerseys when playing at home.
The proposed rule is not related to any student-athlete safety concerns. Furthermore, this regulation could have a significant negative marketing impact for the Broncos. It will also likely result in undesirable publicity for the NCAA, and would most certainly be damaging to the Boise State University brand. Whatever upside might result from this change is not worth the harmful impact it will have on this institution.
An olive branch, yes, but does it really make a difference? If you're superstitious, maybe: Since 2002, Boise has only lost three games on the blue turf – against Boston College in the 2005 Humanitarian Bowl, against TCU in 2011 and against San Diego State last November – and wasn't wearing all-blue in any of them. In fact, it hasn't lost a game in all-blue in more than a decade, since falling to Washington State on Sept. 8, 2001.
On the other hand, the Broncos have lost a grand total of eight games in seven years under head coach Chris Petersen, regardless of what they're wearing. And as far as "negative marketing" and the "Boise State University brand" go, Nike has certainly had no problem capitalizing on the opportunity to expand the palette the last couple years. Wherever the NCAA comes down on this critical issue, I think it's safe to assume Petersen's program is capable of handling it in stride.