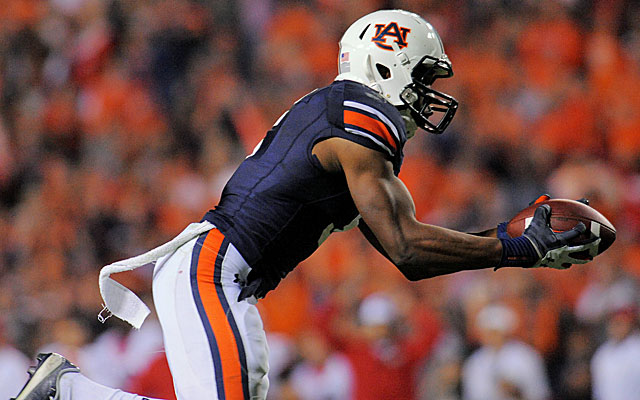 AUBURN, Ala. -- In the language of Auburn football, it is known simply as an "NCAA route." Asked for the formal full name of the play that reverberated from here to Tuscaloosa and back again around the country Saturday, Gus Malzahn demurs.
"I don't want to [inform] Alabama," Auburn's coach said.
Looking ahead. That's where we are here on the Plains in the days following the most bizarre play of the season that has set up perhaps the biggest Auburn-Alabama game ever.
To look back invites equal measures of delight and dread here. Sophomore Ricardo Louis ran it -- that NCAA route, essentially a deep post -- on fourth-and-forever Saturday against Georgia. It saved the game and the season for the Tigers.
But to say it was just another pitch and catch needs some qualifiers. And someone to settle an argument.
"That's a freak play," said a dejected Aaron Murray in the moments after the Georgia quarterback endured the 43-38 loss.
"I thought I was going to drop it for real," Louis said.
"Obviously, [that play] takes some good fortune," said Rhett Lashlee, Auburn's offensive coordinator.
Louis did benefit from a tip of Nick Marshall's pass by Georgia defensive back <player idref=-Clemons that landed the ball in his hands perfectly in stride. But these Tigers aren't going to settle for fortune, freaks or even drops at this point.
Three years removed from a national championship, 50 weeks following one of the most depressing dips in program history, a couple of days past the "Prayer at Jordan Hare" and a fortnight to go until Alabama, they don't have to apologize for anything.
"It's not luck," Auburn defensive end Dee Ford protested. "People discredit Ricardo's catch. Put the average receiver out there to make that catch with that type of concentration. The ball didn't just fall in his hands, he bobbled it while he was running."
That's why that mind-numbing, season-altering bobble has the country babbling about Auburn again. The Tigers have become as quick a fixer-upper the SEC -- or the nation -- has seen.
Through 11 games, they have accomplished the biggest turnaround in the country this season -- from 3-9 to 10-1. The 7 1/2-game improvement is only slightly behind the NCAA record set by Hawaii, which improved by 8 1/2 games from 1999-2000 (0-12 to 9-4).
It's already the biggest SEC turnaround, going from no conference wins to six.
This was a program that in 2012 became the first in history to go winless in its conference two years after winning a national championship. To call last year a season in disarray would have been a compliment to clusters everywhere.
"When we watched game film from last year, it looked like a spring practice," said defensive coordinator Ellis Johnson, who has spent 17 of his 38 years in coaching in the SEC. "It would look like guys were fighting and grinding, but there wasn't any emotion. There weren't any dynamic plays. It was like the fourth day of spring practice."
Others would contend the Tigers flat-out quit, especially if you witnessed the depressing  49-0 finale at Alabama.
"Relief," center Reese Dismukes said describing the feeling, "it was finally over."
"I just knew we were free," Ford said. "When you're practicing you feel trapped. When you have nothing to play for, you put in countless hours for nothing."
Malzahn was really the only solution. He was available, having spent what amounted to a one-year head coaching internship at Arkansas State refining his craft. He knew the territory having programmed Cam Newton to that '10 title and Heisman.
He also understood that his first duty was to clean house. The staff is a mix of veteran (such as the 61-year old Johnson) and youth. Co-offensive coordinator Dameyune Craig is largely credited for recruiting Jameis Winston to Florida State.
For whatever reason, Gene Chizik and his staff had become stale, fast. Malzahn had worked for the man so you would think it would be hard for him to critique. But when he arrived, staring back at that first meeting were scores of players he had recruited under Chizik.
"The first team meeting, it was tough," Malzahn said. "Even the players I knew and recruited, it was different. They went through a storm. We did a little Dr. Phil in there for a while."
"The first sentence he said to us," recalled tailback Tre Mason. "'Guys, I know a lot of you guys know me but we're going to have the biggest turnaround in college football.' He told us straight to our face."
This season has added to Malzahn's savant reputation. He's not chatty like Jimbo Fisher, charismatic like Mack Brown or impenetrable like Nick Saban. Gus is friendly enough, it's just he's like your kindly pastor who unleashes fire and brimstone each Sabbath.
Except that Malzahn unleashes something else on Saturdays. He was smart enough to land Marshall out of Garden City (Kan.) Community College. Marshall had been defensive back at Georgia but was let go because of a violation of team rules.
"When Nick first got here, he was rolling out in a scrimmage," Mason said. "He threw from the 10 to the other 10. We all looked at each other, 'Do ya'll see what I see?'"
They only had to look at some Marshall film from Garden City. That's him completing a 62-yard pass -- similar to Saturday's -- helping beat Mississippi College.
In the third start at Auburn, Marshall led a comeback against Mississippi State. In his seventh start, he stared down Johnny Football in College Station, rallying the Tigers back from 10 points down in the fourth quarter.
"I don't see what Johnny Manziel has that Nick doesn't," Mason said.
Marshall isn't quite a refined thrower -- yet. The nation's 50th rated passer guides the nation's 104th-best passing offense. But after a few workouts in the summer with Marshall, receiver Trovon Reed declared, "We just found our starting quarterback."
That makes Auburn's 2013 even more astounding. A couple of weeks ago, Marshall threw seven times against Tennessee. Meanwhile, the Tigers piled up the second-most SEC rushing yards in a decade (444). Marshall had 214 of them, the third-best rushing day for an Auburn quarterback.
Everywhere Malzahn goes seems to turn into Ws. Lashlee has basically been around Malzahn since he was coached by him as a seventh-grade quarterback in Arkansas.
At the age of 30, Lashlee's career has had him associated with the SEC's all-time best offense, a Heisman Trophy winner (both achieved by Newton), a conference player of the year (Sun Belt, Ryan Aplin last year at Arkansas State) and four bowl games.
When calling plays from the sideline with Malzahn, Lashlee said, "A lot of times we finish each other's sentences."
Malzahn's coordinator may drip with Southern exposure -- the Arkansas native was named after "Gone With The Wind" character Rhett Butler -- but he is not prone to exaggeration.
The two coaches huddled with players Saturday before that "NCAA route" won the game with 25 seconds left. Lashlee recognized a play from Malzahn he ran hundreds of times at Shiloh Christian High School.
Just back then, it worked, if not perfectly, then differently. As Saturday's game neared its fourth hour, Louis ducked into that fourth-down, sideline huddle and told Malzahn and anyone who would listen that he wanted the ball.
Never mind that receiver Sammie Coates turned out to be open at the first-down marker, or that Louis looked blanketed by the Georgia secondary. Marshall was going to chuck it and Louis was going to run under it.
"At first I was still kind of in shock," Lashlee said. "At first when you do that, you feel like, 'We stole that.'"
Lashlee will have an argument within his own program because no one at Auburn will give it back. They've all come too far. The same 85 or so players on the roster who were part of the 2012 disaster are now leading the 2013 turnaround.
"I believe people forgot about us," Mason said. "Around the country we didn't get a lot of respect. Of course, we didn't deserve it. We've earned everything we've had now."
That includes the upcoming epic matchup with their rivals. It doesn't matter that the national championship has left the state once since 2008. Auburn was the one that cratered while Bama will be the one chasing a third consecutive title when the teams meet here Nov. 30.
"Right now we cannot afford not to get ready," Johnson said from his office Monday during the bye week. "We're already breaking down film on them. We're human, too. We get into the emotional part of it.
"We went through a long offseason."