For the second straight year, the Eye on College Football counts down to the SEC's Game of the Century Year between the Tigers and Tide -- 8 p.m. ET Saturday on CBS, and live online right here -- with a daily look at news, stats, matchups, and more.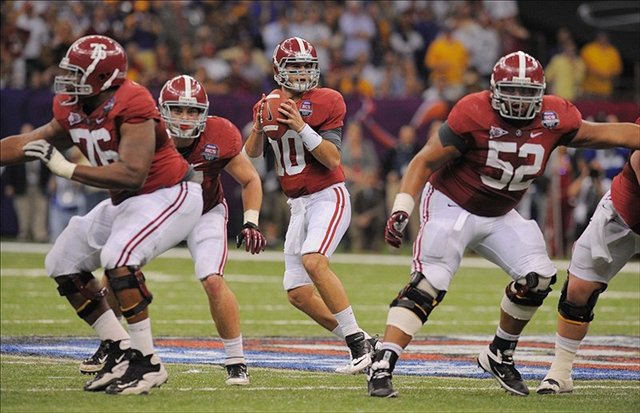 AJ McCarron found room to operate in the BCS title game. Will he Saturday? (US Presswire)
DAYS REMAINING TO KICKOFF: 4, or the number worn by Alabama tailback T.J. Yeldon. Yeldon is maybe the biggest symbol of why these teams aren't likely going anywhere from their current perches near the top of college football -- they're experienced, but there's also nothing like a shortage of young talent. Both the Tide's leading rusher (Yeldon) and receiver (Amari Cooper) are freshmen; starting left tackle Cyrus Kouandjio is a sophomore; their top pass rusher (Adrian Hubbard) and two of their top three tacklers (Trey Depriest and Vinnie Sunseri) are sophomores, too. Not quite as many of LSU's contributors are underclassmen, but they still boast up-and-coming stars like freshman corner Jalen Mills, sophomore defensive tackles Ego Ferguson and Anthony Johnson, and sophomore wideouts Odell Beckham (the team's leading receiver) and Jarvis Landry.
In other words: Don't be surprised if we're bothering with a countdown at this time again next year, or two years from now, or three.

THE LATEST OUT OF BATON ROUGE: So are the Tigers using last January's BCS Championship Game pratfall vs. the Tide as a motivational edge this week, or not? In this story from the Times-Picayune (headlined "LSU players downplaying BCS revenge factor vs. Alabama"), the answer seems to be "not."
"They had beaten us in the big one. But you can't dwell on that," safety Eric Reid said. "You have to look at this as a fresh new start. If we want to get back to the big one, we have to go through them. We still have scars from it but we're moving on from it."

"It's a distant memory," said Barkevious Mingo. "This game is the one that's right in front of us now. It's two different teams."
Then you've got this, from defensive tackle Bennie Logan, speaking to the Associated Press (in a story headlined "LSU hungry for redemption in rematch with Alabama"):
There are a lot of scars from that national championship game. You will see it on the field. The loss in the national championship game had a big impact on us. Going into last season, we had set goals like winning the national championship. Bama took that from us. They took that national championship ring. We want to show the world that we have bounced back from that loss."
So, what's Les Miles' take? From his press conference Monday night, he took the more "we're just playing for the West" angle ... we think (?):
On LSU motivation ...
"I think there's always a point that there's a piece that motivates a team. I can always tell you that with me, it's the positive end that motivates me; the opportunity, victory, and certainly the opportunity for our football team to advance in the western division. In comparing us with a very quality opponent and matching us with a very quality opponent drives for a best place ... I think there's a piece in every man that says 'I just don't want this to end on the wrong side of the score.'"
VIDEO BREAK: First, if you haven't seen this pulse-quickening trailer direct from LSU Football, now's the time:
Next, yours truly took a bit of time on Tuesday's College Football 360 (every weekday at 10 a.m., right here) to discuss where Alabama isn't vulnerable:
MAKE-OR-BREAK MATCHUP OF THE DAY: Barkevious Mingo and Sam Montgomery vs. Cyrus Kouandjio and D.J. Fluker. An addendum to the above video: there might be one place where Alabama really is an average (or even below-average) rather than superior team, and fortunately for LSU, it's a place where the Tigers have the tools to attack it: pass protection.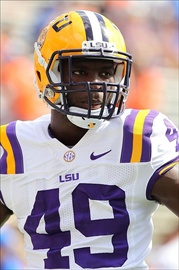 Barkevious Mingo could make a game-changing play Saturday. (US Presswire)
The Tide's numbers in sacks allowed aren't great -- 76th nationally, tied for 6th in the SEC -- but they're actually even worse than those rankings would indicate. Thanks to their huge leads and powerful running game, the Tide have thrown fewer passes than all but one other SEC team (Florida) and eight other teams in all of the FBS. With a ratio of 17 sacks allowed to just 184 passes attempted, AJ McCarron has gone down on a full 8.5 percent of his dropbacks -- leaving the Tide in a virtual dead heat with Ole Miss for the fourth-worst pass protection rate in the league. (Auburn, Florida, and South Carolina -- the Gamecocks by a hair -- are worse.)
So if Kouandjio and Fluker haven't been at their best against the likes of Western Kentucky (who collected six), it's fair to wonder how they'll fare against future NFL first-round defensive ends like Mingo and Montgomery. The Tigers rank third in the SEC in sacks, and again, that might be selling them short -- they've faced the fifth-fewest passing attempts. Perhaps even more worrying for the Tide is that not just Mingo and Montgomery, either; seven different Tigers have recorded at least two sacks on the year, meaning it's not as simple as cheating extra blockers toward the ends.
Of course, giving up a high rate of sacks hasn't done much to slow Alabama down so far -- they won that Western Kentucky game 35-0, for instance. (It's not like Florida or South Carolina are having disappointing seasons, either.) But in a game where LSU needs every advantage it can get, isolating Mingo and Montgomery against the Tide tackles stands out as one possible edge, and if they can force McCarron into a precious critical turnover or two, it could even be a decisive one.

THE LATEST OUT OF TUSCALOOSA: Hmmmm: Despite Nick Saban's assertions Monday that Cooper, the wideout, would be a-OK with a lingering ankle injury, Cooper dressed but did not participate in drills for a second straight day. As massively talented as Cooper is, much more practice time missed and the effects could be seen on the field Saturday -- particularly against a defense as good as LSU's. (The good news? McCarron seems fine.)
So why, if it was capable of whipping LSU 21-0 in a "neutral" venue (one that tilted in the Bayou Bengals' favor), did Alabama spit the bit at home at Bryant-Denny in the November meeting? Per al.com, Saban said late Monday it was because his team was too "ramped up" for the game.
"If there was anything I would say about last year's game," Saban said, "I think there is such a thing as almost being too ramped up for a game ... When you play in games like this, everybody would say it's really critical you play your best in a game like this, but the formula and the recipe for what that is doesn't really change. Even though you'd like to change it, and put a little more sugar in the cake to make it taste better, it usually makes it taste worse." 
So how difficult is it to manage the temptation to add more "sugar"? Even Saban himself admitted he isn't sure how to do it.
"It's a balance, and I don't know that anyone is an expert in exactly how to manage it," he said.
So far this season, he and his team have seemed to do a fine job of it -- but they also haven't faceed a team or atmosphere anything like what they'll face Saturday night.
ALSO, HERE'S A GAME PREVIEW: It's from our CBS SEC RapidReporters, and it's well worth your time. They take Alabama, 23-13.