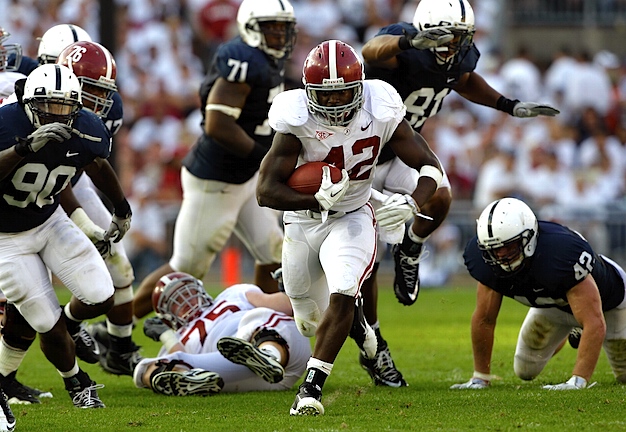 ALABAMA WILL WIN IF… The most recognizable face on Alabama's roster may be the latest in a long line of clean-cut, floppy-haired Crimson Tide quarterbacks, A.J. McCarron, but its identity is still based on dominance in the trenches: Between seniors Barrett Jones and Chance Warmack and junior D.J. Fluker, 'Bama comes in with three potential first-round draft picks who have combined for 84 career starts on the offensive line, and will also be introducing their heir apparent, Cyrus Kouandjio, at left tackle. On the other side, Michigan is breaking in an entirely new rotation of defensive tackles in the middle of the line, and may be relying heavily on a true freshman, Ondre Pipkins, in his first college game. Surprise: Alabama aims to pound, pound and pound some more.
Assuming he's at full speed, the lion's share of that effort will likely fall on the shoulders of junior Eddie Lacy, who is both the most experienced of 'Bama's stable of blue-chip tailbacks and, courtesy of his 6-foot, 220-pound frame, the most reminiscent of departed All-American Trent Richardson. But the bottom line is that the ball carriers are interchangeable: Whether it's Lacy, or freshman T.J. Yeldon, or short-yardage thumper Jalston Fowler, or anyone else on the depth chart, the priority is giving him plenty of room to run.

MICHIGAN WILL WIN IF… Alabama is replacing half of last year's homicidal defense, including both starting outside linebackers and both starting cornerbacks, and those who do return have never faced a running threat at quarterback anywhere near the caliber of Denard Robinson. (Last year, in fact, the Tide didn't face anyone who could be accurately described as a scrambler or a "dual threat" quarterback at all.) As relentlessly disciplined as Nick Saban's defenses tend to be, Robinson's quickness in tight quarters can't be simulated on a whiteboard or by the scout team, and any mental lapses or sloppy pursuit angles from one of the youngsters could mean lights out.
That said, Robinson likely will have to complete a long pass or two on the new corners to either keep the defense from crowding the line of scrimmage or make them pay for it when they do, which will be a tall order. If the Wolverine D manages to hold up against the run, though, a couple of quick strikes could be the difference in a low-scoring game.
X-FACTOR. Michigan coach Brady Hoke has been toying with reporters this week over the status of suspended tailback Fitzgerald Toussaint, by far the most dangerous weapon at the Wolverines' disposal after Robinson, but only if he's allowed to play. With Touissant in the lineup, Michigan is the only team in the nation with two returning 1,000-yard rushers in the same backfield, and Alabama has another reason to risk sneaking its safeties closer to the line of scrimmage. Without him, Michigan has no proven running threat besides Robinson, who has a big enough target on his jersey as it is.