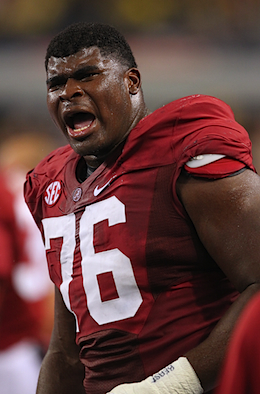 Fluker started 36 games at right tackle over the last three seasons. (US Presswire)
Just two days after its greatest hit, a thorough 42-14 thumping of Notre Dame in Monday night's BCS Championship Game, Alabama's offensive line is officially breaking up the band. According to TideSports.com, junior tackle D.J. Fluker will forgo his senior season for April's NFL Draft, following decorated seniors Barrett Jones and Chance Warmack and leaving the Crimson Tide without the core of the line that anchored back-to-back title runs. A formal announcement on Fluker's future is expected as early as Thursday.
Fluker arrived in Tuscaloosa from Foley, Ala., as arguably the most touted member of the Tide's 2009 recruiting class, a group that has more than lived up to its billing as the No. 1 incoming class in the nation: Aside from Fluker and seven other full-time starters on this year's team, the '09 crop also included three players (Trent Richardson, Dré Kirkpatrick and James Carpenter) who have already been drafted in the first round. Although he sat out the 2009 championship run as a redshirt, Fluker wasted no time establishing himself as a mainstay up front in 2010, eventually logging 30 consecutive starts at right tackle. As a junior, he was singled out by SEC coaches as a first-team all-conference pick and by a handful of outlets as an All-American.
By most standards, the offense he helped anchor in 2012 was the most productive in Alabama history, setting new school records for points (542), yards (6,237) and touchdowns (71). The Crimson Tide also produced two 1,000-yard rushers, Eddie Lacy and T.J. Yeldon, for the first time in school history, as well as the most efficient passer in the nation, A.J. McCarron, the first Bama quarterback with 30 touchdown passes in a season. Despite its conservative, salt-of-the-earth reputation, the offense thrived on balance, averaging 227.5 yards per game rushing and 218 yards passing, and it was one of only five that went over 3,000 yards by both ground and air.
With his colossal size, Fluker is projected as a likely late first- or second-round pick in April, one of at least six offensive tackles with a realistic shot of going on the first day. Two other juniors, Lacy and cornerback Dee Milliner, are both tabbed as top prospects at their respective positions, but neither has made his plans official.
Even if Lacy and Milliner do follow Fluker to the next level, though, Alabama will return the vast majority of its starting lineup, including McCarron, Yeldon, the top four wide receivers and seven of the top 10 tacklers on defense, virtually assuring its place atop the preseason polls heading into 2013. The only area on the depth chart that stands out as a glaring question mark is the offensive line, which loses not only Fluker but also highly regarded Jones and Warmack, who combined for 100 career starts and made every All-America team. Left tackle Cyrus Kouandjio, another former five-star recruit, is the next big thing after starting every game as a sophomore, and there's also veteran Anthony Steen. But the new faces filling the other vacancies will inherit a very high bar.