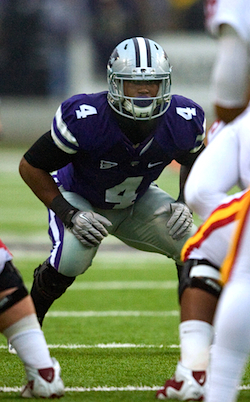 Assessing 2012's most intriguing players, in no particular order. Today: Senior Kansas State linebacker Arthur Brown.
• Typecasting. Before he was "Bryce Brown's older brother" in recruiting circles, Arthur Brown preceded Bryce as the first five-star prospectever from the state of Kansas, and very nearly joined his brother in the pantheon of infamous busts. After two seasons in Miami, Arthur had plummeted from prized recruit to special teams afterthought. Burnt out as a 'Cane, he transferred home to Kansas State in January 2010, sat out the following season and quietly took his place last summer as a likely starter on the Wildcat defense.
His presence didn't stay quiet for long. While Bryce flaked his way off the team, the elder Brown lived up to the hype by leading K-State in total tackles and picking up a first-team All-Big 12 nod from conference coaches, who also voted him as the league's Defensive Newcomer of the Year. With Arthur in the middle, K-State improved against the run by a full 100 yards per game compared to 2010, when it allowed more yards on the groundthan any other defense in the country, and more yards per carry than all but one; the 2011 D finished 37th against the run and held the Big 12's most prolific offenses, Baylor and Oklahoma State, to less than half their season averages. No one played a bigger role in that transformation than Brown, and an encore stands to make him a lot of money in next year's draft.
• At His Best.His success against the run has more than a little to do with the fact that Brown is ideally suited for the spread-happy attacks of the Big 12: At a relatively undersized 228 pounds, he's much less of a classic, between-the-tackles brute than he is a heat-seeking, sideline-to-sideline missile. Brown's best asset is his closing speed, on full display last October against the eventual Heisman winner (and former Big 12 hurdles champion), Robert Griffin III:
Brown also came up with a critical interception in that game – his only pick of the year, and the first of just six from the arm of RGIII – which set up a game-winning field goal with less than five minutes to go in the fourth quarter. But that came like a lucky bolt of lightning, with an assist from a strong pass rush; Brown's main responsibility is always patrolling against the run and the short screen game. Once he diagnoses a play, there are few better at the college level at eluding blockers, flowing downhill toward the ball and making their presence feltin the open field.
• Curb Your Enthusiasm. The offenses that ran the ball most effectively against K-State last year were the ones with some semblance of a traditional, power running game between the tackles: In November alone, Oklahoma and Texas A&M gashed the Wildcats for more than six yards per carry, and Texas and Iowa State both went over 200 yards rushing before subtracting for sacks. That's a team thing, but for his part, Brown struggles to fend off linemen once they get their hands on him, which too often results in him either getting engulfed by blocks…
…or attempting to run around blocks rather than take them on. That can work if he guesses right; if he guesses wrong, it usually means there's no one home until the back is well into the secondary.
• You should probably know…* Do a simple YouTube search for "Arthur Brown," and you'll get this guy, doing… whatever this is:
Younger readers may be somewhat taken aback to learn that that song, "Fire" by The Crazy World of Arthur Brown, reached No. 2 on the U.S. Billboard charts in October 1968 – just behind "Hey Jude," and just ahead of "Harper Valley P.T.A."– after topping the charts in the U.K. that summer, proving once again that the world was a much weirder, more alive place before we arrived in it. (Then again, in late 1968, applying bizarre makeup and anointing oneself the "god of hellfire" was pretty much money in the bank. One more thing to blame on Nixon.) The "original" Arthur Brown, now 70, has continued putting out albums for the last 40 years, but never again approached the artistic or commercial heights of "Fire," because seriously, how would that even be possible?
(* Obviously, there is in fact no good reason a football fan in 2012 should know the first thing about a 70-year-old British shock-rocker. But if you think there is an inappropriate time to post that video, you are sadly mistaken.)
• What to expect in the fall. As celebrated as he was coming out of high school, Brown effectively came out of nowhere last year. This year, he goes into the season regarded by pretty much everyone as the best linebacker in the Big 12, and quite possibly a first or second-round draft pickif he delivers another season like the last one. There's still some concern against teams willing to line and run right at him on a consistent basis, but with Texas A&M off to the SEC, there are only three or four opposing offenses on the schedule – Oklahoma, TCU, Texas, maybe Miami – that fit that mold. If he holds up in those games, there's every reason to expect him to leave college with the same kind of hype he started out with.
- - -
Previously on Coming Attractions: Ray-Ray Armstrong, Miami. … Danny O'Brien, Wisconsin.