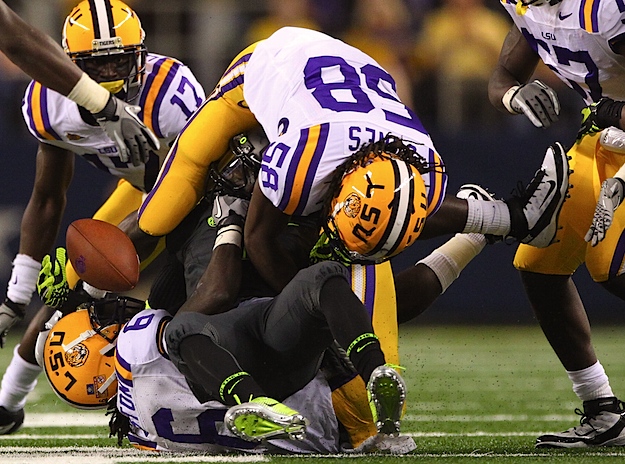 Another week, another hit to LSU 's depth chart: According to the Times-Picayune, junior linebacker Tahj Jones, a projected starter, is one of four players who have been ruled academically ineligible for the entire 2012 season, along with senior tight end Tyler Edwards, sophomore linebacker D.J. Welter and sophomore offensive lineman Evan Washington. All four had been held out of the Tigers' first two games as they awaited word on their eligibility, and head coach Les Miles confirmed Wednesday morning that they won't see the field this year.
Jones is the second defensive starter LSU has lost to off-field issues in the last month, following the "Honey Badger," Tyrann Mathieu, who was dismissed from the team in August for allegedly failing a drug test. Mathieu re-enrolled at LSU last week and will pay his own tuition for the upcoming year in hopes of rejoining the team in 2013. The Tigers are also without All-SEC starter, left tackle Chris Faulk, who was ruled out for the season last week with a major knee injury.
Last year, Jones started one game as a sophomore and was the first linebacker off the bench in the rest, putting him in line to assume the top job at the strongside position with the graduation of starter Ryan Baker. With Jones' status in doubt, that role has been filled over the first two games by junior Luke Muncie and true freshman Kwon Alexander, the most hyped member of the 2012 recruiting class. Edwards has seen regular playing time over the last three years as a backup tight end, especially as a blocker on running downs. Welter and Washington have played sparingly but remained buried on the depth chart and were not expected to see significant time.
Jones was one of two veteran players reportedly appealing their eligibility status before the season-opener, along with the Tigers' leading rusher in 2011, Michael Ford, who was cleared and has played in both of the first two games. Saturday, LSU is a 42.5-point favorite over lowly Idaho ahead of its SEC opener at Auburn on Sept. 22.